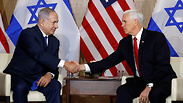 Prime Minister Benjamin Netanyahu met with US Vice President Mike Pence on Thursday during the Middle East Conference being held in Warsaw Poland. The PM referred to President Donald Trump's proposal saying that "Israel is anticipating the deal of the century.

"I know that the Trump administration seeks to ensure Israel's security for generations to come," Netanyahu added. "That said, based on my experience, Israel will always defend itself, by itself. It is reassuring to know that there is such a strong bond between our countries."

Netanyahu continued: "There is a deep connection between the American people and Israelis. We have no friends greater than you. We are grateful for Trump's decision to move the embassy to Jerusalem. I know that you know this and that Trump knows this.

"We really appreciate this conference in which 60 representatives and foreign ministers, including from Arab countries, stand together and speak with rare candor against the mutual threats by the Iranian regime," Netanyahu told Pence. He then thanked the vice president for his support.

Pence responded to the prime minister: "We thank you for your leadership and commitment to this historic place. It is inspirational for me to be with you here and it reminds me of the strength of our nation's relationship."

Earlier, Pence and Netanyahu placed wreaths at the memorial for the Warsaw Ghetto uprising during which Jewish fighters fought the Nazis in the spring of 1943. They were accompanied by Polish Prime Minister Mateusz Morawiecki.

At the conference, which opened Thursday morning, Netanyahu found himself siting next to the foreign minister of Yemen Hisham Sharaf. The PM thanked US Secretary of State Mike Pompeo for organizing the event, which he called a historic turning point.

The Trump administration's envoy to the Mideast Jason Greenblatt tweeted that during the conference, the microphone of Netanyahu failed to work prompting the Yemeni foreign minister to lend him his microphone, eliciting a lighthearted remark from Netanyahu regarding the "new cooperation between Israel and Yemen."

Bahrain's Foreign Minister Sheikh Khaled bin Ahmad al-Khalifa said that he believes that there will be diplomatic relations between his country and Israel in the future. Asked when the breakthrough will take place and when Netanyahu will be invited for a visit, al-Khalifa responded: "It will happen when it will happen."

Earlier, Pence called on European countries to pull out of the 2015 Iran deal. He focused his criticism at the EU, Britain, France and Germany saying that the mechanism implemented to continue doing business with Iran strengthens the Islamic regime and distances Europe from the USA. He called it an attempt to "break the American sanctions" against Iran.

Meanwhile in Russia, President Vladimir Putin is meeting with Iranian President Hassan Rouhani and Turkish President Recep Tayyip Erdogan in the coastal city of Sochi to discuss post-civil war Syria.