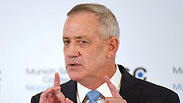 Gantz: Iran won't have nuclear weapon on my watch
Following Iran's Foreign Minister Zarif's accusation that Israel was looking for war, former IDF chief of staff and the leader of the Israel Resilience Party Benny Gantz urges world powers to not believe Zarif's 'lies'; adds that 'the Jewish people and the Jewish state will never again put its fate in the hands of others.'
Former IDF chief of staff and the leader of the Israel Resilience Party Benny Gantz said Sunday that Iran won't achieve nuclear weapon on his watch.
Making his debut appearance on the international stage, Gantz hit back at Iranian Foreign Minister Mohammad Javad Zarif's accusation that Israel was looking for war and behaving in such a way as to increase the chances of a clash in the region.
"Don't believe Zarif's lies," Gantz urged the crowd, stressing that he and Prime Minister Benjamin Netanyahu see eye to eye on the Iranian issue.
"It is no secret that Prime Minister Netanyahu is my political rival. We disagree on many issues.But make no mistakes—we are both devoted sons of the same nation.
"When Israel's security is under threat, there is no daylight between us. On this critical issue there is no right or left. There is no coalition or opposition," he said.
"When it comes to defending Israel—we are united !!! I am standing shoulder-to-shoulder with Prime Minister Netanyahu in the fight against Iran's aggression," Gantz said.
In addition, the former chief of staff stressed that the Jewish people and the Jewish state will never again put their fate in the hands of others.
"I am also standing here as Benny—the son of Malka and Nachum Gantz, Holocaust survivors. It is a very emotional moment for me.
"In many ways, my life has begun before I was born. It began in the moment my mother Malka walked out of the Bergen-Belzen concentration camp.I will always remember the ones who never came out," he said.
Gantz speaks at the Munich Security Conference, February 17, 2019. (צילום: רויטרס )
"When my mother emerged from the worst catastrophe of human history, she chose life over death. Along with hundreds of thousands of Jews, she returned to our ancient homeland, built a home, raised 4 children and participated in one of the most remarkable human endeavors of the modern era: the rebirth of Israel!
"Here, in Munich I say: the Jewish people and the Jewish state will never again put its fate in the hands of others. We will protect ourselves by ourselves and guarantee the future of our people," Gantz told the audience.
Touching on worldwide growing anti-Semitism, Gantz said that the phenomenon is not only a Jewish issue.
"Anti-Semitism is raising its ugly head again. Not only in dark alleys, but out in the open. In public squares, universities and political rallies. The ancient hate is poisoning hearts and minds all around the world.
"As the next Prime Minister of Israel, I will show zero tolerance to the pathological hate towards Jews or any others," Gantz said.