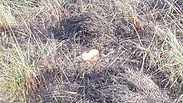 Firecracker lands in Sha'ar HaNegev Regional Council
Two fires broke out on Tuesday in the Kissufim forest in the Eshkol Regional Council, near the Israeli border with Gaza, due to incendiary airborne device tied to a balloon launched from Gaza. This is the first fire in five months sparked by incendiary balloon flown from Gaza.

Firefighting forces that were called to the scene gained control of the flames. In addition, a firecracker attached to a balloon landed in Sha'ar HaNegev Regional Council in the Gaza border communities and was neutralized by a police sapper.

Following the incident, head of the Eshkol Regional Council Gadi Yarkoni said: "The Israeli communities near the Gaza border are also a part of the Jewish state. In the days when those running for the Knesset talk, tweet, hold conferences in order to garner our votes, I turn to you, the citizens of Israel—ask them what is their policy regarding Gaza and the balloon terrorism. Because the Gaza border communities are a part of Israel. Today it's us, tomorrow it will be you."

In January, a cluster of balloons attached to an explosive device was located in the Gezer Field, near the Ramat Negev Regional Council. The police neutralized the device and no casualties were reported.

In December, a cluster of 10 balloons attached to a miniature explosive device landed near a kindergarten yard in moshav Kfar Maimon in the Sdot Negev Regional Council and an additional incendiary balloon landed in the southern moshav of Zru'a. In both incidents there were no casualties reported.