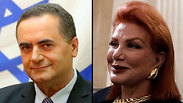 Yisrael Katz and US Ambassador to Poland Georgette Mosbacher
Photo: Reuters
US ambassador to Poland: Israel should apologize to Poles for Holocaust comments
As spat over Israeli officials' remarks about Poland's involvement in the Holocaust spirals, US ambassador to the Eastern European country says Yisrael Katz should express regret over his statement that Poles 'sucked anti-Semitism with their mothers' milk.'
Acting Foreign Minister Yisrael Katz should apologize to Poland for his remarks, US Ambassador to Poland Georgette Mosbacher said on Wednesday, commenting on the diplomatic row between two countries.

"I just felt that two strong allies like Israel and Poland, of course they are strong allies of the United States, shouldn't be using that kind of rhetoric. We are too important to each other not to work these things out," Mosbacher told reporters.

The comments come in the wake of Poland's decision to withdraw from a formal gathering of the central European Visegrad Group of countries that was set to take place on Tuesday in Israel after Katz said that "many Poles" had collaborated with the Nazis in World War Two and shared responsibility for the Holocaust. He also referenced a quote from the late former prime minister Yitzhak Shamir, who said that Poles "suckled anti-Semitism with their mothers' milk."

Poland's Prime Minister Mateusz Morawiecki announced Sunday that he was pulling out of the summit and canceled Polish participation altogether the following day after the remarks from Katz, which he denounced as "racist" and "absolutely unacceptable."

The summit was then cancelled, and the leaders of the other Visegrad countries — Hungary, Slovakia and the Czech Republic — travelled to Israel for individual, bilateral talks with Netanyahu.

The first gathering outside Europe of the Visegrad group was supposed to be a crowning achievement for Netanyahu in his outreach to central and eastern Europe to counter the criticism Israel faces in international forums over its policies toward the Palestinians.

In place of the summit, Netanyahu held back-to-back meetings with Slovak Prime Minister Peter Pellegrini, Czech Prime Minister Andrej Babis and Hungarian Prime Minister Viktor Orban before hosting all three for lunch at his official residence.

But hovering over it all was the absence of Poland, the fourth member of the group. In brief comments alongside the three visiting leaders, Netanyahu made no mention of the elephant in the room, focusing instead on a range of joint economic, technological and cultural projects.