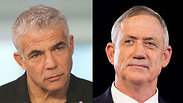 Lapid and Gantz
Photo: Getty images
Right-wing parties on Thursday slammed the decision by Israel Resilience leader Benny Gantz and Yesh Atid Chairman Yair Lapid for their decision to join forces and signing a rotation agreement ahead of the April 9 Knesset elections.

According to the agreement, should Gantz and Lapid's joint list win enough seats to form a government, former IDF chief Gantz will serve as prime minister for the first two and a half years, and will be replaced by Lapid for the second half of the four-year term.

"The choice is between a leftist government led by Gantz and Lapid, and supported by an obstructionist bloc of the Arab parties, or a rightist government led by (Benjamin) Netanyahu," one Likud official said.

Gideon Sa'ar, who secured the fifth spot on the ruling party's Knesset list, harshly criticized Gantz and Lapid's merger.

"A rotation agreement was a ludicrous idea in 2015, and still is today," Sa'ar said in reference to the rotation agreement between then-Labor leader Isaac Herzog and Hatunah chair Tzipi Livni in the 2015 elections.

"Gantz and Lapid teaming up only shows that neither of them is certain of his ability to lead and gain broad public support. Gantz splitting the leadership with Lapid won't make the latter more suitable (to serve as prime minister) in the eyes of the public," he said.

Likud's top candidate, Knesset Speaker Yuli Edelstein, also blasted the union.

"This morning the goal is clearer than ever—(to achieve) a wide, strong and united right-wing bloc headed by Netanyahu and the Likud. Anything other but that will drag Israel dozens of years backwards in terms of security and the economy. We cannot repeat the mistakes that we have already regretted in the past," Edelstein said.

The ultra-Orthodox Shas Party also lambasted the move. "This union jeopardizes Judaism. Gantz, who supports civil marriage and transportation on Shabbat, teamed up with Lapid, whose hatred for Jews became his life work," the party said, adding that it would support Netanyahu for prime minister.

Finance Minister Moshe Kahlon, who heads the Likud offshoot Kulanu, took the opportunity to promote his own party. "While other parties are preoccupied with their work arrangement, Kulanu remains the only party that looks after the public, the Israeli family unit and the middle class. Only Kulanu presents a national and social agenda. (We are) the sane and responsible right. The public knows who its servants are and who worries only for himself and his associates."

The Gantz-Lapid deal also drew fire from some corners of the left, with opposition leader Shelly Yachimovich of Labor accusing Gantz and Lapid of an ideological deficiency.

"Israeli politics has never seen such a vague party lacking in ideology. (It is) a hybrid created in PR offices," she said. "What is their stance on the two-state solution? Are they social democrats or capitalists? Would they sit in a Netanyahu-led government?"

Labor faction chairman Itzik Shmuli, however, expressed his support for the merger.

"We welcome Gantz and Lapid's union because it promotes the chance of forming an obstructionist bloc vis-à-vis Netanyahu, who is supported by Meir Kahane's successors, Shmuli said, referring to the murdered head of the now defunct, outlawed Kach party, who in the 1980s advocated the "transfer" of Palestinians to neighboring Arab countries and called for a ban on intermarriage between Israeli Jews and Arabs.

Meretz leader MK Tamar Zandberg said: "After the union by the center, the time has come for the left to team up in order to establish a center-left government. Meretz will leave no stone unturned to make that happen. We have 12 hours left (until the parties' deadline for submitting their final Knesset lists to the Central Elections Committee) and we call on Labor Chairman Avi Gabbay to immediately join us at the negotiations table."

Moran Azulay, Yuval Karni, Amihai Attali and Shahar Hay contributed to this article.