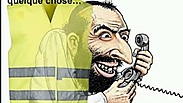 Anti-Semitic caricature on social media
Anti-Semitism in 2019 manages to reach far-fetching conclusions in the name of hatred of Jews, thus uniting the extreme right and extreme left in this ideology.

Groups that identify themselves as either anti-globalization or anti-Zionist, use their platforms to spread anti-Semitic and racist propaganda, according to the findings of Israeli media research company Vocativ.

Images and caricatures of Jews with stereotypically long noses are prevalent on the social media pages of these groups.

In France, where a wave of recent anti-Semitic attacks was preceded by anti-Jewish messaging appearing among members of the anti-government yellow vest movement, images of Adolf Hitler with a yellow vest photoshopped onto him also recently began to appear on these pages.

Following the recent anti-Semitic attacks in France, social networks have been abuzz with propaganda targeting the Jewish community, which includes posts entitled "Uncle Adolf didn't finish the job" and "You did a good job, friends! France belongs to you and not the Zionist Jews."

Even Alain Finkielkraut—a well-known writer and son of a Holocaust survivor who was caught on camera being abused by a yellow vest protester, calling him a "dirty Zionist shit"—continues to deal with anti-Semitic abuse online, where countless photoshopped images of him with an exaggerated nose are splattered across those social networks.

Vocativ monitors communications on the Internet using technological tools developed for intelligence agencies.

"The effect it has on the physcology and the way it's propagated on the social media is quite sophisticated. Our company has for some time been identifying algorithms linking popular movements to anti-Jewish and anti-Israeli messages," said Vocativ's founder Mati Kochavi.

Kochavi gives an example of a social media post, urging "those who support the yellow vests" to foster hatred for Jews and Israel "because the banks are owned by Jews and (French President Emanuel) Macron worked for Rothschild."

For instance, one extreme-right group posted an old anti-Semitic saying: "Republican France is actually the France of the Jews who slaughter the people, and who the kings of France expelled from here a dozen times."

In another example, a social media page entitled, "A better world without Jews" is run by an extreme Russian-based right-wing group called "Grakov."

Meanwhile on the far-left, activists celebrate Alain Soral—a well-known Holocaust denier with several convictions for anti-Semitic incitement, and French comedian Dieudonné—self proclaimed anti-Zionist and inventor of the 'quenelle' gesture, a chest-level version of the Nazi salute.

Rabbi Shmuel Lubetzky, a leading rabbi in the Parisian Jewish community, said that in the wake of the recent attacks, he's met with many yellow vest activists who have apologized and denounced the anti-Semitic views shared by some of the movement's members.

"On the one hand, there is a show of solidarity, but on the other hand, these activists told us what they think about us in a very straightforward manner," said Lubetzky. "Many rabbis have received encouragement from priests who wish to strengthen the Jewish community and renounce anti-Semitism."

Rabbi Lubetzky believes the rise of anti-Semitism in the country correlates directly with the rise of the yellow vest movement.

"Every Saturday the yellow vests stage demonstrations, which has a mixture of both the extreme right and the extreme left—all the extremists. They spur one another on and create this atmosphere," he added.