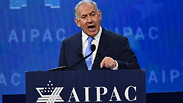 Prime Minister Benjamin Netanyahu
Photo: AFP
Netanyahu defends partnership with far-right party amid AIPAC criticism
Prime minister remains defiant in the face of possible breakdown of relations with pro-Israel lobby, calling their condemnation of Otzma Yehudit merger as 'hypocritical'; adds leftist critics in Israel want 'extreme Islamists in the Knesset.'
Prime Minister Benjamin Netanyahu is defending his partnership with a small ultranationalist party despite local and international condemnation.

Netanyahu tweeted Saturday that the criticism, including from pro-Israel Jewish organizations in the US, was marked by "hypocrisy and double standards." He accused leftist critics in Israel of having once acted "to put extreme Islamists into the Knesset" to weaken the right.

Netanyahu is seeking a fourth straight term as premier in April 9 elections.

Earlier this week, his Likud party formed a partnership with a smaller merged party that includes members of the Otzma Yehudit (Jewish Power) movement. Otzma Yehudit embraces the ideas of the late rabbi Meir Kahane, who wanted a Jewish theocracy and advocated forced removal of Palestinians. In 1997, Washington classified his Kach movement a terrorist group.

On Friday, the American Israel Public Affairs Committee retweeted a statement made by the American Jewish Committee a day earlier, strongly condemning the partnership with the far-right party, calling their views "reprehensible."

"American Jewish Committee (AJC) does not normally comment on political parties and candidates during an election," said the statement. "But with the announcement that Otzma Yehudit, a new political party formed by longtime followers of the late Rabbi Meir Kahane, is now seeking election to the Knesset, we feel compelled to speak out."

"They do not reflect the core values that are the very foundation of the State of Israel. The party might conceivably gain enough votes to enter the next Knesset, and potentially even become part of the governing coalition," the statement added.

The condemnatory retweet was immediately met with a belligerent response by the Otzma Yehudit members. "They don't live here, and they criticize us, as if they are on Mount Olympus," the Jerusalem Post quoted Otzma Yehudit co-founder and former MK Michael Ben-Ari as saying.

"We call on AIPAC members to do the right thing and return home to Israel before they involve themselves in elections ... When they arrive here, they will be able to be partners in the crucial and existential decisions of those living in Israel, and we will be happy for them to make decisions together with Israel's citizens," he said.

AIPAC is a strictly bipartisan American-Israel public affairs committee that promotes Israel in the United States. Netanyahu is confirmed to speak at the AIPAC Policy Conference due to take place at the end of March in Washington DC.