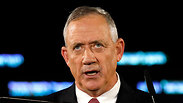 Gantz accused of sexual harassment by Israeli woman living in US
Nava Jacobs, who left Israel in 1982, alleges that Gantz, the former IDF chief and the leader of the Blue and White Party, exposed himself in front of her when she was 14 years old while the two were at HaKfar HaYarok youth village; Gantz's party says claims are 'complete lie,' his lawyer threatens legal action.
An Israeli woman living in the United States accused former IDF chief and Blue and White Party leader Benny Gantz on Wednesday of sexually harassing her 40 years ago, when she was 14 years old.

Gantz's party said the allegations were "a complete lie," and his lawyer sent her a letter threatening legal action.

Nava Jacobs, who left Israel in 1982, first made her claims against Gantz in December, saying the alleged harassment took place while the two were attending HaKfar HaYarok youth village and boarding school in Ramat HaSharon, around 1976.

In a Facebook post on Wednesday, Jacobs repeated her allegations. "I was a teen in the midst of adolescence, a young girl at HaKfar HaYarok," she wrote about the incident. "I was innocent, and I still didn't understand the things that were going on at the youth village, and certainly not what the things that were happening between boys and girls."

"It happened one day at the cowshed, where I most loved to be, among the animals," she wrote. "Benny Gantz burst inside, coming toward me, and he had a very scary look in his eyes. He was a big man, among the oldest at the village. He came close to me with a terrifying look, opened his pants, and exposed his penis in a way that made me feel I was in danger."

She went on to write that "I froze, and even if I wanted to escaped, he blocked the way. He stood there and laughed and had a terrifying look on his face, like a predator. I was lucky his friend showed up and pulled him away from me."

"I stayed at the cowshed stunned, crying and humiliated," Jacobs wrote. "For many years later, I remembered the scary eyes, which put terror into me as he looked at me. He ruined my life. This was my first encounter with sexuality, and he acted like a pervert."

Her post caused a storm online, with some expressing their support of her, while others slammed her.

In a video she posted in the wake of the outcry, Jacobs doubled down, insisting that "My story is completely true. I read your comments on Facebook—women who write such disgusting things to me. Don't you have children? I have nothing to gain, I live in the United States. I exposed myself only to bring out the truth, because I love the State of Israel and don't believe such a man is even capable of sitting in the Israeli government."

To Ynet, Jacobs said that "the boys would pull all kinds of pranks. I went to the cowshed on my own, and all of a sudden they showed up and he (Gantz) did this for no reason. I was a young girl then. They laughed and fled."

"He didn't touch me nor did anything to me," she clarified. "I've never spoken to anyone about it, I was ashamed of it. Why would I tell people such a thing? It just grieves me that such a man wants to be prime minister. This is my country, after all, and I help Israel a lot."

Gantz's Blue and White Party claimed political elements were behind Jacobs' allegations, describing her Facebook post as "incitement."

"This is a complete lie. Yesterday, it was a blood libel about the graves of the sacred IDF soldiers, and tonight it's a baseless allegation about Benny Gantz and his days at HaKfar HaYarok in the 1970s. The political incitement has crossed all lines. The incident is being handled on a legal level," the party said in a statement.

Gantz's lawyer said that "the post constitutes libel, and it's clear to all that the sole purpose of this post is to use Facebook to harm my client as part of the elections campaign—in which my client is running for the premiership with the Blue and White list—and spread lies about him."

He demanded the immediate removal of the post and informed Jacobs that if she fails to comply, legal action will be taken against her.

The ruling Likud Party denied any connection to the post.

Inbar Tviser, Yuval Karni and Moran Azulay contributed to this story.