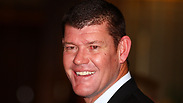 James Packer
Photo: Getty Images
The publication of the suspicions against Benjamin Netanyahu in Case 1000 has provided additional insight into the alleged relationship between the prime minister's family and Australian billionaire James Packer, one which officials believe included gifts, favors and even access to Packer's properties in Israel and around the world.
According to the allegations, the Netanyahu family enjoyed free use of Packer's villa in Caesarea, which is next to their own, even when the businessman was not present.
In mid-2013, American-Israeli billionaire Arnon Milchan introduced Netanyahu to Packer, and since then the two shared a bond based on the Australian businessman's admiration for the prime minister.
Throughout their acquaintance, from 2014 to 2016, Netanyahu and his wife received gifts from Packer that included boxes of cigars and bottles of champagne —the same kind of gifts that they received from Milchan during the same period.
"These gifts were generally made in response to demands by Sara Netanyahu while (Benjamin) Netanyahu was aware of their receipt in significant volume… and sometimes in response to Netanyahu's own demands," the attorney general's recommendations state.
According to the suspicions, these gifts were given frequently enough to be said to be considered a "conveyor belt" of cigars and champagne.
Benjamin and Sara Netanyahu allegedly received gifts from Packer worth NIS 229,174 (approx. $63,000) between 2014 and 2016. Of that sum, NIS 145,577 (approx. $40,000) was spent on cigars and NIS 83,597
(approx. $23,000) on champagne. These gifts were allegedly made to Netanyahu due to his position and standing as the prime minister.
It was also previously revealed that Netanyahu would use Packer's villa in Caesarea for his meetings. His son, Yair, would also stay in Packer's villa, at his suite at the Royal Beach Hotel in Tel Aviv and in his homes abroad.
What is Case 1000?
This case, also known as the "illicit gifts affair," concerns gifts the prime minister and his family allegedly received from Milchan and Packer. The gifts mostly included champagne and expensive cigars.
The investigation found there was an alleged organized system, which operated for about a decade, with Netanyahu and his family demanding and then receiving gifts worth a total of some NIS 1 million.
In return for the gifts, Netanyahu allegedly used his position to influence government policy for the betterment of his associates, particularly Milchan.
Tax benefits: One such favor was the premier's invested interest in extending tax benefits for returning residents to over 10 years, something the police estimated would have saved Milchan millions of dollars. Finance Ministry officials rejected the proposal, saying it was contrary to the public interest, because fewer taxes would be collected.
US visa: Netanyahu is also suspected of working to aid Milchan renew his visa to the US. The prime minister allegedly turned to then-US Secretary of State John Kerry, then-US Ambassador to Israel Dan Shapiro and Israel's Ambassador to the US Ron Dermer, asking for their help in extending Milchan's visa.
Channel 2 merger: The prime minister allegedly worked to promote the merger of the two TV networks that shared Channel 2, Keshet and Reshet, which Milchan sought to run, in addition to owning shares in commercial competitor, Channel 10.
"Communications Ministry Director-General Shlomo Filber intervened and acted on behalf of Netanyahu in order to advance Milchan's affairs. In return, the prime minister was promised sympathetic coverage (from Channels 2 and 10)," police said.
The Tata project: According to the police, the most glaring example of Netanyahu working against Israel's interests to benefit Milchan was his efforts promote a free trade zone on the Israel-Jordan border, a project Milchan sought to promote as part of his partnership with Indian industrialist Ratan Tata.
The project, which police noted went against the recommendations of the defense establishment, would have generated Milchan and Tata "a huge profit," but ended up being scrapped because it would've cost the state an unreasonable amount in security expenses.
Channel 10: Netanyahu allegedly acted in violation of the law when he handled the affairs of Channel 10, despite knowing his friend Milchan owned shares in the channel.