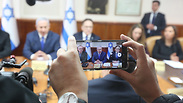 Media during a cabinet meeting
Photo: Mark Israel Salem
Where and when did Prime Minister Benjamin Netanyahu's obsession with the media start? I know the answer to that question because I was there when said obsession was in its infancy. Months before the publication of the first issue of Israel Hayom (Israel Today)—which unlike Yedioth Ahronoth is given out for free—I sat down for a talk with its proprietor, the American-Jewish billionaire, casino owner and enthusiastic Netanyahu supporter Sheldon Adelson.

"I intend to start publishing Israel Hayom in order to destroy your newspaper, Yedioth Ahronoth, and to ensure Netanyahu's victory in the next elections so he can reign as premier for years to come," Adelson said (to the best of my recollection, since I didn't record the conversation).

"Don't try to stop me," he said. "I'm a billionaire with a lot of resources and an ideology about the Israeli media. I'm willing to invest a lot more than you and your publisher."

And he did exactly what he promised he would.

Adelson is not fluent in Hebrew or Israeli politics. It felt as though his words were being remotely spoken through him by Netanyahu himself, who at the time of the conversation was still the leader of the opposition, but who a year later became the prime minister.

In the 12 years of Israel Hayom's existence, Adelson—at Netanyahu's request—invested over a billion shekels in order to crown Bibi and ensure his victory during every election campaign. To achieve that, he had to shift Israeli public opinion from a sane center to an extreme right, and to inflict severe economic damage on its strongest competitor, Yedioth Ahronoth.

Yedioth doesn't have the same resources as Adelson —whose net worth is estimated to be around NIS 130 billion (approx. $36 billion) —and to this day, the newspaper continues to wage a cruel war of survival. Its employees, meanwhile, pay the price, competing with a paper that's distributed for free to hundreds of thousands of readers without no consideration of cost-benefit and created solely to serve the interests of the prime minister and his inner circle.

Although Netanyahu has been complaining about selective enforcement, what is truly surprising and outrageous is that this Likud party propaganda leaflet is not considered by the state comptroller as a violation of campaign finance laws and continues to endlessly disseminate election propaganda in 2019 as well.

Of course, no one is trying to justify the conduct of Yedioth's owner—Arnon Mozes—who is expected to be indicted by the attorney general in Case 2000, involved a quid-pro-quo deal where the prime minister asked for favorable coverage in return for regulatory benefits. Personally, I cannot understand how Mozes could have confided in Netanyahu, whose name precedes him as the epitome of dishonesty and lack of credibility.

My publisher, however, operated under the pressure of knowing that his outlet was under existential threat. He acted in the face of an aggressive and destructive opponent with no inhibitions and unlimited funds. Furthermore, as far as Yedioth Ahronoth was concerned, the talks between Mozes and Netanyahu did not bear any fruit.

The reports and opinion pieces of the Yedioth Ahronoth journalists were not swayed in any way (a statement corroborated by the indictment) and no line of communication was created between the Prime Minister's Office and the former editor-in-chief of the newspaper. There wasn't a semblance of Netanyahu having a foothold in the newspaper.

As I said two years ago, when the secret recordings between Netanyahu and Mozes were exposed, the latter was willing to suspend himself from from running the paper until the allegations were cleared.

Nonetheless, let's not forget that the source of corruption in the whole affair is sitting in a villa in Caesarea as well as in the distant and protected state of Nevada. In the democratic United States, for example, a publisher of a newspaper with a political agenda who is living in a foreign country must register as a foreign agent.

When the moderate center in Israeli politics tries to justify to itself the elections results over the past decade—and the transfer of a significant portion of its voting sector to the fanatical right-wing—it ignores the crucial role that this shift had in the emergence of Israel Hayom.

Did the enormous scale of this political propaganda sheet — distributed daily free of charge and funded by a multi-billionaire who is jetting about somewhere from Singapore to Las Vegas—have no effect on anyone in Israel? It chills me to the bone to know that it did.