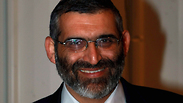 Michael Ben-Ari
Photo: Yariv Katz
AG moves to bar head of far-right Otzma Yehudit from running for Knesset
Central Elections Committee likely to back Mandelblit bid to disqualify former Kahane acolyte Michael Ben-Ari from standing for parliament on grounds of 'extreme evidence of incitement'; fellow party member Itamar Ben-Gvir allowed to stand
Attorney General Avichai Mandelblit and State Prosecutor Shai Nitzan decided Tuesday night that former MK Michael Ben-Ari, an extreme-right politician who heads the Otzma Yehudit (Jewish Power) party, will be disqualified from running for the next Knesset on the basis of incitement to racism. The decision looks likely to be supported by a majority of members of the Central Elections Committee.
The attorney general also determined that another Otzma Yehudit party member known for his racist utterances, Itamar Ben-Gvir, will be allowed to run for office, "despite mounting evidence against him that are incredibly disturbing, nearly deeming his Knesset nomination disqualified." Otzma Yehudit was founded by Ben-Ari and fellow former far-right MK Aryeh Eldad, originally under the name Otzma LeYisrael (Power to Israel). Both Ben-Ari and Ben-Gvir are former followers of ultra-nationalist Rabbi Meir Kahane, whose Kach party was barred from the Knesset in 1994.
Mandelblit's decision follows a petition by MKs Stav Shaffir (Labor) and Tamar Zandberg (Meretz) and the Israel Movement for Reform and Progressive Judaism, which was supported by Arab lawmakers as well as the Yesh Atid Party. It was to be discussed Wednesday by the Central Elections Committee, and if it chooses to disqualify Ben-Ari the case will be heard by the High Court of Justice, which will be the final deciding authority on the matter.
According to the AG, the decision to disqualify Ben-Ari is based on several videos, some even posted on Ben-Ari's Facebook page, in which he "systematically made racist and inciting statements based on national and ethnic characteristics against the Arab population."
Mandelblit further said that Ben-Ari calls for violently stripping the Arab population of its rights, branding Arabs as "a murderous nation" and as possessing "a murderous and treacherous nature."
"This harsh and extreme evidence prove this (incitement against Arabs) is the main agenda and cause for the abovementioned Knesset nominee… He works to make these ideas a reality and his running for public office aims to facilitate it," concluded the AG.
Mandelblit was referring, among others, to two quotes by Ben-Ari from 2018 in which he called for violence against Israel's Arab community.
In May 2018, Ben-Ari said: "Arabs in Haifa are no different from the ones in Gaza… They are the enemy within, they're a fifth column. You need to call a dog by its name - they are our enemies, and they want to annihilate us."
In August 2018, he said that, "the equation has to change — if you speak against a Jew, you're not going to be alive. Not going to be alive! You're not going to be deported or have your citizenship revoked. You're not going to be alive! You'll be put in front of a firing squad, taken down — this is what Arabs understand."
Otzma Yehudit said in response to the ruling that is "proof that AG Mandelblit and State Prosecutor Shai Nitzan are the ones running the country," and lamented that the two did not disqualify the Arab parties from running for office despite "their incitement against Israel and blatant support for terror."
The extremist party also accused the Israel Movement for Reform and Progressive Judaism of lying to the attonrey general in order to have Ben-Ari disqualified. "We hope the election committee will show the AG that hypocrisy has its limits… The Reform (the Israel Movement for Reform and Progressive Judaism) deceived Mandelblit and filled partial recordings."
The Union of Right-Wing Parties, of which Otzma Yehudit is a member, also slammed Mandelblit for his decision, calling him "the same attorney general who allows Arab MKs who support terror and incite against the state to run for office."
"The rule of clerks is scary. Someone has made it his goal to bring down the rule of the right, and he's using all means possible, but the will of the people will be heard loud and clear on election day, as it should in a democratic state," the Union of Right-Wing Parties concluded.