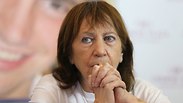 Zehava Shaul
Photo: Alex Kolomoisky
Zehava Shaul, mother of a fallen IDF soldier whose remains are believed to be held by Hamas in the Gaza Strip, is fighting cancer and feels like she hasn't got much time left. "I just want to see my son Oron," she said Monday, weeping; "alive, wounded — and if he's dead, I want a grave."

Zehava, 63, has been fighting cancer for years and endured two brain surgeries. Two weeks ago she passed out and her situation is deteriorating. According to the IDF, her son Oron, a soldier in the 13th Battalion of the Golani Brigade, died alongside five other IDF soldiers, in July 20, 2014, during Operation Protective Edge.

Oron was traveling through the Shuja'iyya neighborhood in Gaza City in an armored personnel carrier that was hit by an anti-tank missile, killing the six soldiers in it. Hamas quickly declared it had seized Oron — not mentioning if he is alive or dead.

Following the incident, the IDF declared Oron as a deceased soldier whose burial place is unknown.

The Shaul family has been struggling relentlessly ever since, in an attempt to discover the whereabouts of their son or return his remains. Oron's father, Herzl Shaul, passed away two and a-half years ago without receiving any word about his son, after he suffered from cancer.

"Oron my love, I have a confession to make," Herzl wrote in a letter to his son a few days before he died. "Remember when you said you were going to Golani, and mom was begging you to give it up because it's dangerous? Well, you need to know that in my heart I was happy and proud. I want to apologies for not listening to your mother."

Today, Zehava is the one who's slipping away. "I'm not doing so good, I don't have much time," she said, and lamented the stand-still regarding her son.

Zehava poins a finger towards Prime Minister Benjamin Netanyahu, Blue and White leaders Benny Gantz and Moshe "Bogie" Ya'alon, former head of the personnel directorate at the IDF Orna Barbibai and Rafi Peretz, former IDF chief Rabbi. All held chief roles in Operation Protective Edge, and are currently running for office in the April elections.

"For four-and –a-half years all these contenders did nothing to get my son back. They didn't lift a finger," Zehava said. "It happened under their watch. Benny Gantz is a charming man with a heart of gold, but in regards to actions? Nothing. He isn't fit to run this country. None of them is willing to guarantee he will take care of Oron's case."

Zehava believes nothing is being done, and said she is ready to give up. "The prime minister only knows how to make promises; he doesn't know how to keep them. I wan't to know about every step Oron took. We've petitioned to the High Court of Justice and it was established that there is still no certainty regarding Oron's fate, and that the decision to declare him as deceased is not a substitute for seeking complete certainty."

"I just want to know where my son is already," Zehava concluded. "And if he's dead, I at least want to have a grave."