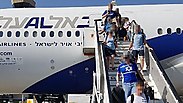 New immigrants to Israel
Photo: Avi Hai
Some 30,000 new immigrants arrived in Israel from all over the world over the last year with the assistance of the Jewish Agency. They came from Europe, North America, the former Soviet Union, Africa, Asia and Australia - to build their home in Israel.

The decision by new immigrants to take part in our shared story has an impact on all aspects of Israeli society, as they contribute to research, science, medicine, economics, security, art, culture and sport.

A special project by Yedioth Ahronoth, Ynet and the Jewish Agency invites you to join us as we meet immigrants new and old, who have chosen to share their lives and experiences with us.

****

The Pomerantz-Ben Abu family, Jerusalem

Countries of origin: France and Russia

Shosha Pomerantz, 26, completed her bachelor's degree in sports and dance in Moscow, followed by a master's degree in art and painting. She decided to do a professional internship in Israel as part of the Masa project, which is jointly run by the government and the Jewish Agency. After her internship, she began studying Hebrew at an ulpan, where she met Dr. Yankel Ben Abu, a French dentist.

They went on their first date on Valentine's Day 2017, married a year later and two weeks ago their eldest son, Eli, was born. The young family recently moved from Herzliya to Jerusalem. Yankel works as a dentist in a private clinic, and Shosha, who is on maternity leave, works as a designer of wedding invitations.

****

The Kabasov family, Ashkelon

Country of origin: Belarus

Olga and Sergei Kabasov, aged 36 and 42 respectively, immigrated to Israel with their children Ilya, 10, and Nikita, 6, in April 2018. They live in the Beit Canada absorption center in Ashkelon. Sergei, who ran a pharmacy in Belarus, works as a truck driver to support the family. Olga was accepted to a course run by the Jewish Agency, the Ministry of Immigrant Absorption and the Tel-Ran company, in which immigrants undergo a professional conversion program. She hopes that at the end of her studies they will both find better employment.

Their son, Ilya, is involved in the sport of wrestling, which he began at an early age in Belarus, where he won medals. Upon their arrival, they encountered a very Israeli phenomenon: rockets from Gaza. "In the early days, after the barrages, it was hard for us to fall asleep at night," they admit.

****

Nicolas Lampert, Tel Aviv

Country of origin: Uruguay

"When I walk around with a kippah in Israel, I feel at home," Lampert says. "My whole life I was connected to Jewish life and to Israel, and when I finished high school, I came for a gap year and other programs in Israel." After the year in Israel he returned to Uruguay. "I had a promising career in the family business in Montevideo, but I realized that this (Israel) is our home and I never gave up my dream of immigrating."

He fulfilled his dream when he moved to Israel alone in March 2018. He spent the first few months at the Jewish Agency absorption center, Ulpan Etzion, in Jerusalem, where he met his wife, who immigrated from England. He currently lives in Tel Aviv and is expected to join the IDF in a few weeks.

****

Anna Gamzinova, Jerusalem

Country of origin: Ukraine

"My family was always forced to hide its Jewishness," says Anna, 23. "During the communist period, my grandmother was not even allowed to use her Jewish surname, but I knew from a young age to which nation I belonged. One day I went into the Jewish Agency building in Kiev and asked to come to Israel."

Anna arrived for a 10-day visit as part of Birthright, and then returned for several months as part of the MASA project. "The moment I arrived in Israel, I knew that I had come home," she says. "I do not have relatives in Israel, but after I arrived I was invited to a barbecue in Jerusalem, where I met my partner, Yossi. It was love at first sight."

****

The Brown Family, Ra'anana

Country of origin: South Africa

"We wanted to guarantee our children a Jewish future," says Barry Brown, 45, who immigrated to Israel I 2017 with his wife Claudine, 44, son Daniel, 16, and daughters Shira, 13, and Ora, 11. Barry started his acting and singing career as a child. He has appeared all over the world and built a magnificent career as a cantor in Cape Town.

When the family immigrated to Israel, he began renovating the house they had purchased in Ra'anana. After building a clinic for his beautician wife, Barry continued to work on house renovations, but did not give up his dream of performing. He is studying cantorial studies in Petah Tikvah, an event producer and in 2018 he competed to be Israel's entrant to the Eurovision Song Contest.

****

Atankot Sitautau, Sha'ar HaNegev

Origin: Ethiopia

Atankot, 29, is a newly arrived immigrant. He arrived from Ethiopia on February 4 with his grandfather, uncles, and 34-year-old brother. They are part of the first 80 immigrants who arrived as part of Operation Yehudit. Sitautau was orphaned when he was a little boy, and his grandfather raised him and his brother.

"For 15 years we have been waiting to immigrate to Israel and reunite with my uncles, my mother's brothers, and now the dream has come true," says Atankot, who in recent years served as a cantor for the Jewish community waiting in Gondar to move to Israel. The family is currently in the Jewish Agency absorption center in the Sha'ar HaNegev Regional Council.

Atankot would be happy to meet with Israeli family, but preferably with an Amharic speaker who could help with the conversation.

****

Yona Weissid Schneider, Nahariya

Country of origin: Brazil

Yona, 54, until recently a resident of Sao Paulo, immigrated to Israel following her son and daughter, who immigrated years before. She is spending her first months in Israel at the Tapuz absorption center in Nahariya, which assists immigrants from all over South America at the start of their lives in Israel. Yona's son, an architect by profession, immigrated five years ago. He was followed by his sister, who is now a soldier in the IDF. Her third son remains in Brazil.

In her native country, Yona ran an apartment building with 600 housing units. Now, while she finishes her Hebrew studies and finds employment in Israel, she is teaching her fellow residents at the absorption center how to make her secret (and excellent!) recipes.

****

The Galsurkar siblings, Jerusalem and Tel Aviv

Country of origin: India

Ze'ev (23) and Grace (26) Galsurkar immigrated last year from India. He lives in Jerusalem and eats kosher food, and she lives in Tel Aviv and is not observant. Grace came first, lived in an absorption center and studied Hebrew at an ulpan. Since she has a master's degree in commerce and accounting, she moved to Tel Aviv at the end of the studio and is employed in her professional field. Ze'ev remains in Jerusalem.

"The Jewish community in Mumbai is very warm and united," says Ze'ev. "I will never forget the rabbi of our community, Gavriel Holtzberg, who was murdered along with his wife in the (2008) terror attack at Chabad House a few days after I celebrated my Bar Mitzvah."

****

Eric Surgeon, Jerusalem

Country of origin: England

Eric, 91, is a very new immigrant, arriving in Israel on February 14, several months after his two daughters and six grandchildren. He is a British citizen of Iraqi origin who lived in India until the age of 17. He moved to England when his talent at playing viola landed him a full scholarship to the Royal Academy of Music in London.

Eric enjoyed a wonderful musical career in England - and among other things he took part in recordings by The Beatles and Eric Clapton, but his specialty is classical music. He is a widower and is happy to meet new Israeli friends.

****

The Tarasov-Bagley family, Jerusalem

Country of origin: Ukraine

Anna Tarasov, 23, and Stanislaw Bagley, 25, met online and married in Ukraine. Anna was working as a television presenter and Stanislaw was a medical student. Before he met Anna, Stanislaw visited Israel as part of Birthright and knew he would return to live here because "people are willing to help each other."

Anna had never visited Israel. In 2017 they both came as part of the Masa project and lived in the Jewish Agency absorption center in Be'er Sheva, which takes in doctors from around the world. A year later they decided to immigrate. Stanislaw is doing an internship at Hadassah Hospital and Anna is starting a preparatory program for her academic studies.