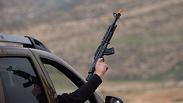 model gun
Photo: Ohad Zwigenberg
Concerned that ongoing clashes with the Palestinians in the Gaza Strip could spread to the West Bank, Israeli security forces are working to prevent the flow of weapons from the territory to Israel proper. But it turns out that weapons smuggling is easier than one might think.

A Ynet investigative team, consisting of a reporter, a photographer and two guides succeeded in smuggling a (toy) weapon from the West Bank city of Hebron to the southern city of Arad, in a journey that took 25 minutes, devoid of any security checkpoints.

The tranquil green scenery of the South Hebron Hills conceals the reality of a thriving gun-running industry in the area. The journey was conducted along a known smuggling route that the state claims has been blocked off. The perpetrators of the deadly terror attack in Tel Aviv's Sarona compound in 2016, which left four Israelis dead, used this route.

Our first stop is the settlement of Avigayil, south of the Yata refugee camp, near Hebron. We entered our vehicle with the model gun and began driving southward on the dirt path. Aside from two locations where the military tried to erect a barricade, the going was quite smooth. The length of the smuggling route is only 9.2 km from Yata to the Green Line boundary between Israel and the West Bank, and a further 13 km to Arad.

We met no security forces along the route. Paradoxically, we hoped to "get caught." We only saw Palestinians making their way from Yata to the nearby towns. A few kilometers outside of Arad, we encountered a suspicious vehicle, its license plate erased, travelling the in the other direction.

Most of the journey takes place in a military zone broadly designated as "Firing Range 918" encompassing 33,000 dunams (8,154 acres). There are 12 Palestinian villages in the territory, which was declared a closed military zone in the 1970s but Palestinians have continued to build there to this day.

In 2017, Regavim (a pro-settler NGO that monitors and pursues legal action against unauthorized construction by Palestinians or Bedouins) appealed to the High Court demanding that the state seal off the smuggling route. The state testified that the route had been blocked in three locations, but Palestinian smugglers have since reopened it.

The court was notified of the developments and has since ordered additional measure be implemented; but as we discovered travelling the route, the route remains entirely passable.

Attorney Roni Pelli of the Israel Civil Rights Association, which represents the local Palestinians, said that the route serves the local residents for transporting water, food and medical equipment. "With regards to any smuggling, that is the army's duty to prevent," she said.

The Coordinator of Government Activities in the Territories (COGAT) says that the route is known to law enforcement and has been blocked on multiple occasions, as recently as three weeks ago, but has yet again been breached.