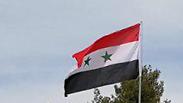 Syrian flag across from Knesset
Photo: A. Vidal
Syrian flag placed opposite Knesset as gesture of goodwill
As part of 9th annual Jerusalem Marathon, the city's municipality decided to place flags of all 80 countries participating in the event — and by sheer coincidence, the flag of Israel's war-torn neighbor ended up outside the parliament building
Israelis found themselves baffled by a Syrian flag placed across from the Knesset building in Jerusalem on Wednesday. To the surprise of many, it was planted there by the city's municipality as an act of solidarity with a Syrian runner expected to participate in the Jerusalem Marathon this Friday.

The Friday's marathon will be the ninth time the capital has hosted the event. Some 38,000 runners, from 80 countries, have already registered, and as a gesture of good will, the Municipality of Jerusalem placed the flags of all participating states along the marathon route.

According to a statement released by the municipality, the placing of the Syrian flag opposite the Knesset was completely coincidental.

Although the Syrian runner, Hassan Shishakly, registered for the marathon, he has yet to collect his kit for the race, casting uncertainty over his participation, which would involve running through the streets of Jerusalem, one of the central issues in the conflict between Israelis and Palestinians.

The Damascus-born Shishakly has been competing professionally for several years, and currently shares his time between the Netherlands and the United Arab Emirates as part of his training program.

Jerusalem Mayor Moshe Lion said the gesture carried no political undertones. "In our united capital, all are respected ... In sports, everyone is equal, and everyone can test the limits of their athletic abilities in order to break records and conquer new heights. Sport is a bridge connecting different people and cultures" he said.