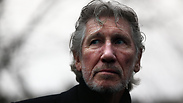 Roger Waters
Photo: Getty Images
Roger Waters, a former Pink Floyd frontman and one of the most vocal advocates for cultural boycott of Israel, has called on the artists participating in 2019 Eurovision in Tel Aviv to boycott the event over Israel's treatment of Palestinians.

Israel won the right to host the event after Netta Barzilai's song "Toy" emerged victorious during last year's competition. The final of the competition will be held on May 18 at Expo Tel Aviv.

https://www.instagram.com/p/BvFN40OlQRS/?utm_source=ig_web_button_share_sheet

In an open letter—addressed to the 41 finalists of the prestigious song competition—published Monday on Water's Instagram account, the 75 year-old wrote that Israel is an Apartheid regime, responsible for ethnic cleansing of Palestinian communities.

Waters is a longtime critic of the Jewish state, and as an active Boycott, Divestment and Sanctions activist he has frequently asked performers to refrain from coming to the Holy Land.

Last September, the former Pink Floyd singer was one of more than 100 artists from around the world calling for a boycott of the Eurovision in Israel.

In a letter published by British newspaper the Guardian, dozens of musicians, actors, filmmakers and directors said they supported Palestinian artists' boycott of the contest since Israel "violates Palestinian human rights."

"Until Palestinians can enjoy freedom, justice and equal rights, there should be no business-as-usual with the state that is denying them their basic rights," the letter read.

"Eurovision 2019 should be boycotted if it is hosted by Israel while it continues its grave, decades-old violations of Palestinian human rights," the letter continued.