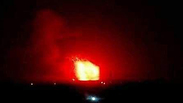 At least seven people were killed and five wounded in an overnight airstrike targeting Iranian weapons stores in Syria that was attributed to Israel, a monitoring group said Thursday.
According to the Syrian Observatory for Human Rights, all of the fatalities were members of the Iranian forces in Syria or militias linked to Tehran.
Acting Foreign Minister Yisrael Katz was reticent Thursday morning about directly acknowledging that Israel was behind the attack.
"According to foreign sources, the air force attacked Iranian troops in Syria," Katz told Ynet. "As far as Iran knows, it was us. It was an extremely challenging action from a military perspective."
In the wake of the airstrike, Israel decided Thursday morning to close its air space over the Golan Heights to all flights over 5,000 feet.
In January, Israel's Iron Dome missile defense system intercepted a rocket fired from Syria at the Golan Heights, close to the Hermon ski resort. The strike was later attributed to Iranian troops near the Israeli border.
Iran's growing influence in Syria, where it has struck economic and trade deals, has raised the prospect of a military confrontation with Israel.
Israel, which considers Iran its biggest threat, has repeatedly attacked Iranian targets in Syria and those of allied militia, including Hezbollah, an Iranian proxy based in Lebanon.
Prime Minister Benjamin Netanyahu has said Israel had carried out "hundreds" of attacks over the past few years of Syria's war to curtail Iran and its ally Hezbollah.
Israel has said it was crucial to block growing Iranian military influence in Syria and has vowed it would push its troops out of the country.
Iran has warned Israel it would respond if it continued attacking targets in Syria and repeatedly said its military presence in Syria is at the invitation of the Assad government and it has no immediate plans to withdraw.
The Syrian military said Wednesday night that the air raids on the industrial zone in the northern city of Aleppo were carried out by Israel, and caused damage only to materials, while opposition sources said the strikes hit Iranian ammunitions stores and a military airport used by Tehran's forces.
"The Israeli aggression targeted some positions in Sheikh Najjar industrial zone and a number of enemy missiles were brought down," an army statement said.
The state-run Syrian news agency Sana said that the country's air defenses were "in operation" over Aleppo and claimed that they had brought down 70 percent of their targets.
The strike reportedly took place while the United Nations Security Council was discussing the US recognition over Israeli sovereignty over the Golan Heights.
There was no immediate comment from Israel.