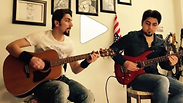 "My brother and I love the Jewish people and Israel very much, and the alliance between the two peoples will never be severed. If God forbid they arrest us for saying that, just share our voices with the world."
These are the words of 25-year-old Mohammad Reza Nasiri, after he and his brother Ali, aged 26, posted on their Instagram an emotional and accented rendition of the song "Yotzeh LaOr" (Coming Into the Light) by the Israeli singer who most moves them – Ehud Banai.
They even wrote to Banai in Hebrew: "We love you, from Iran," and added the Israeli flag to their video.
The unexpected gesture by the brothers, who are amateur musicians, was not lost on Banai. He wrote back to them "beautiful, thank you," and "this is great and moving."
Mohammed and Ali, who have an American flag on the wall of the room where they play, did not stop there. They went to the Israeli Foreign Ministry's Instagram account to express the hope that their performance would be published in Israel.
The two brothers post many of their performances on Instagram, showing their versions of songs by artists from all over the world. Nor is it the first time that sibling duo has shown love for an Israeli singer online. In May 2018, they performed a song by Aviv Gefen.
The amateur musicians do not hesitate to admit that they are afraid of being arrested.
"But everything is difficult in Iran," they say. "We are not doing anything political, we are all human beings and we do not hate anyone. We would be happy if our story would be published in the Israeli media."
Nonetheless, Mohammad's Instagram account has been made private and with it the musical tribute to Banai.
The original song by Ehud Banai
Israel and Iran had a close relationship for the first three decades of the Jewish state's existence. But the Islamic revolution of 1979 saw the country taken over by religious fundamentalists who severed all ties and declared Israel its enemy. Yet some Iranians apparently do not share this view and even long for the time when the two countries can be friends once again.
For some Israeli officials, the affection Iranians have for the Jewish state is indeed nothing new.
"We receive hundreds of messages every day from Iranian citizens who want to emphasize that their position on Israel is different from that of the government," says Sharona Abginsaz, who is responsible for the Persian language social media at the Foreign Ministry.
"They see Israel as a future ally of Iran, when the regime changes."