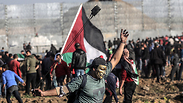 Riots on the Gaza Fence
Photo: EPA
No one should envy Prime Minister Benjamin Netanyahu, who now has a week before the elections to find the right solution to the challenges set by the leader of Hamas in Gaza, Yahya Sinwar. These challenges - the March of Return, attempts to breach the border fence, launching rockets at towns on the Gaza border as well as cities in central Israel, to name but a few - are an attempt by Sinwar to extort as much as he possibly can from Netanyahu.
And yes, we should not envy Netanyahu, but we must also remember that he is the one responsible for this mess, which may well end up inflicting a heavy human cost on all of us.
Netanyahu has no plan for Gaza. The four years since Operation Protective Edge should probably be remembered as wasted years, in which Netanyahu came up with no initiatives to solve the misery of the people of Gaza.
It was this absence of an initiative that led us to where we are now. The leaders of Hamas decided that they had had enough, and took matters into their own hands, creating their own initiative that involved changing the reality on the Israeli side.
For Israel, this reality which was up until this point to offer ad hoc solutions such as suitcases containing millions of dollars sent to the Gaza Strip from Qatar. A comprehensive plan to lift all barriers that prevent Gazans from living a normal life was never even on the table.
From the Hamas leader's perspective, I believe Netanyahu is his preferred candidate. Netanyahu freed 1,027 terrorists in 2011, including 127 Palestinians serving life sentences for murder, in return for Gilad Shalit, the IDF soldier captured five years earlier. Among the prisoners given their freedom was Yahya Sinwar – who soon after became the head of Hamas in Gaza.
Having been imprisoned there for 23 years, it is fair to say that Sinwar graduated with distinction from the best school for Israel studies. Sinwar is convinced that Netanyahu is under pressure in the run-up to the April 9 elections, and – ironically - wants him to win because he believes that Netanyahu of all candidates will not deliver a deadly blow to Hamas in Gaza.
And what will Netanyahu do to prevail in the days leading up to April 9? "He will do everything he can to stay in power," a senior defense official told me. "He has no God."
But there is something that all politicians should consider – we should all strive to keep educating ourselves throughout our lives.
"No one can teach me about protecting the people of Ashkelon," huffed Culture and Sports Minister Miri Regev, after she came under criticism for saying "so what" if rockets were fired at the city.
The ancient Jewish book on ethics, Pirkei Avot (Ethics of the Fathers), tells us: "Who is the smart one? The one who learns from everyone, who says 'I have learned from all of my students.'"
Mrs. Regev, there is nothing wrong in asking that you learn. It is not a crime, but a privilege.