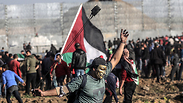 Demostrators at Gaza Fence last week
Photo: EPA
The arrangement in the making between Israel and Hamas in Gaza has turned into an important part, which for now has yet to be revealed, of Donald Trump's self-titled Deal of the Century.
Everyone who needs to know understands and is keeping quiet. Egyptian President Abdel Fattah el-Sisi - whose country is acting as sole mediator and whose emissaries have spent the past few days running between Hamas, Islamic Jihad and their military wings, and even visiting the Gaza-Israel fence - is mum.
The headlines in Cairo's major newspapers tell of Sisi's comments on women's rights, raising civil servants' salaries, the president's recent guests and of course his planned visit to the White House on April 9, Israeli Election Day. We learn what Sisi wants from Trump and what Trump expects to hear in return.
But what of Gaza? On this issue, there is almost nothing. Egyptian army officers report directly to a special command center in Cairo, which in turn directly reports to the presidential palace, and not a single word leaks out.
The silence on the issue is kept by everyone - even Qatar. For there too, those in the know understand that the arrangements in Gaza are part of Trump's Mideast mega-deal. It is interesting to note that while Egypt (on Saudi Arabia's orders) is boycotting Qatar, Egypt still lets its envoy, Mohammed al-Emadi to keep acting as an ATM for Gaza. Only now the money is not going directly to Hamas' leaders but rather is handed out to the people in the form of a humble living allowance.
In Israel too, it is known that the Gaza arrangement is part of a bigger plan. Prime Minister Benjamin Netanyahu deployed IDF troops, called up reservists, set up security forces at the Gaza border, all to prepare for the day after the arrangement, when Israel would increase the number of fishing permits, allow exports to the West Bank and perhaps even into Israel, set up industrial zones and other economic arrangements.
Note how Trump and his advisors are not saying a word. If they spoke out now, put pressure on one side or the other, the deal that is not yet finalized could all blow up. It would almost certainly fall apart. After all, who in the Arab world wants to be associated with Trump, who is associated with Netanyahu?
Even King Abdullah of Jordan has connected the dots between what is happening on both sides of the Gaza border and Trump's deal. It is no coincidence that Abdullah prefers to talk about Jerusalem rather than Gaza. He is keeping track of the developments between Israel and Hamas and knows where things are going.
Naturally Abdullah is more interested in events in the West Bank, which is on his doorstep. The Gaza Strip is of less importance to him, but he is following along so as not to be taken by surprise.
It seems as if the only one who can break this chain from Israel to Hamas, via Egypt, to the White House is Palestinian President Mahmoud Abbas. He understands that this is a part that, for obvious reasons, had not yet been officially announced. After all, this is all still in the early stages, where there are no announcements, but rather laying the foundations of the deal and removing any obstacles.
Abbas and his ministers are caught in a trap. They are attacking the American plan, feuding with Trump as they are with Netanyahu, and they have no solution or alternative plan.