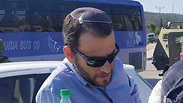 Yehoshua Sherman testifying at the scene of the attack Wednesday
Photo: Nadav Goldstein, TPS
A would-be Palestinian attacker was shot dead Wednesday morning during an attempted stabbing near Huwara in the West Bank. The man was shot by two armed Israeli civilians, including his target.
The attacker was evacuated to Beilinson Hospital in Petah Tikva in critical condition and died shortly afterwards. No one else was harmed in the incident.
Initial reports said the attacker blocked an Israeli vehicle in which a father and his daughter were sitting, at a junction near Huwara on Route 60, close to the Palestinian city of Nablus. He approached the car's driver with a knife in his hand when the driver and an Israeli driving a nearby truck opened fire.
The driver was later named as Yehoshua Sherman, who runs the field campaign for the New Right Party.
"I went to work and drove from Elon Moreh towards the Tapuach Junction," said Sherman. "At one of the junctions (along the way) a terrorist charged at the car and tried to open the door. I got out of the car (from the other door) and as he was making his way to me, I shot him along with another man who driving a truck behind me."
Yossi Dagan, the head of Shomron Regional Council, expressed his support for the two Israelis who neutralized the attacker: "This is how one should act — firmly, against those who seek our harm, and with no fear," Dagan said.
"This event highlights the importance of finishing the new road that bypasses Hawara, as we've agreed with the prime minister. There is no reason why Israeli residents should drive through hostile Arab communities every morning and endanger their lives and their children's lives," said Dagan. "The road should be completed swiftly."