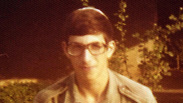 Zachary Baumel
Photo reproduction: Amit Shaabi
Despite ups and downs in the past 37 years, Israel's security forces didn't give up. On Wednesday they were able to bring closure to the Baumel family, which will now finally be able to bury their son Zachary, who disappeared during the First Lebanon War in 1982. But two other families — the families of Zachary's comrades, Zvi Feldman and Yehuda Katz — are still awaiting their closure.

Operation Bittersweet Song kicked off two years ago, but its origins lie in Russia entry into the Syrian arena, back in 2013. It was the families of the three MIAs — Baumel, Katz and Feldman — who approached then-IDF chief of staff Gadi Eizenkot and asked that Israel seize the opportunity and push for new information on their loved ones, in light of strong ties with Russia.




Israel indeed started pushing, and in June 2016, it was able to get Russia to repatriate the IDF tank the three men were in when they were killed on June 11, 1982, from the Russian museum that showcased it. It was one of two tanks that Syria seized in the battle, which later made their way to Moscow's Kubinka Tank Museum.

When Avigdor Lieberman took office as defense minister, he used his close ties with Moscow officials to initiate Operation Bittersweet Song, led by Colonel A. of Military Intelligence. For two years, Israel's intelligence units collected information and tried to pinpoint the location of the remains.

The operation came to a halt in mid-September, when Israel's relationship with Russia went sour over the accidental downing of a Russian military aircraft in Syria, which Moscow attributed to Israel and Israel attributed to the Syrian forces who fired anti-aircraft missiles. The operation was revivged when the two countries' relationship slowly went back on track.

After the diplomatic ordeal, Russia's Defense Ministry spokesman said in a press conference that Israel has asked for his country's help in an operation to seek the remains of missing IDF soldiers lost in Syria. He revealed that Russian soldiers were working in territories formerly under ISIS control in Syria, in order to try to locate the remains. Israel declined to address the remarks.

During the past three months, intelligence efforts kicked up a notch, and culminated in late March when the troops who were tasked with bringing the remains back were given a green light to proceed. After 37 years, Baumel's partial remains, his army overalls and the tzitzit (Jewish garment) he was wearing, arrived in Israel.

The Abu Kabir Forensic Institute in Tel Aviv said it was technological abilities that allowed the positive identification of Baumel's remains, and "uncover forensic finds that shed light on the deceased's cause of death, despite the scientific challenges that arise from the long period of time that has passed."

The institute received 20 sets of human remains. So far, only Baumel has been positively identified, while another set of remains appears to belong to a John Doe, who wasn't one of the Israeli MIAs.

"I'll never forget the moment we saw the remains," said Colonel A. "We could immediately determine that the overalls belonged to the IDF's Armored Corps. We looked at the writing on the back in Hebrew, which was amazingly preserved.

"We also identified the IDF imprint on the shoes. It was an emotional moment, we couldn't help but cry," said Colonel A. "We knew that after 37 years, we finally had the remains."

From Colonel A.'s words it is clear that whoever had the remains took good care of them, allowing their preservation. It's not clear whether the clothing pieces were buried with the remains of the body or kept separately.

"There was no deal and no negotiations to return Baumel. He was returned in a military operation," said IDF Spokesperson Brig. Gen. Ronen Manlis.

"We are not saying where his body was found. The operation proves that we never abandoned the Sultan Yacoub case. The families know that we will continue to make every effort to bring their sons home."

Prime Minister Benjamin Netanyahu made a televised statement in which he called the mission to retrieve Baumel's remains the essence of the Israeli spirit.

"This is one of the most moving moments of all my years as prime minister of Israel," he said.

Russian President Vladimir Putin, who received Netanyahu in Moscow on Thursday, announced that the Russian Defense Ministry will show effects of MIAs collected at the site where Baumel's remains were found, and promised that Russia is actively searching for additional MIAs.

Putin also said that Russian forces based in Syria were those who found Baumel's remains.

"Our people along with the Syrians found the missing soldier and will work to find others still missing," Putin said.

Putin added that at a ceremony to be held at the Russian Ministry of Defense, other artifacts belonging to MIAs found at the Yarmouk refugee camp, near Damascus, will be presented.

"Russia considers it its duty to search for MIAs and that is what we will do."