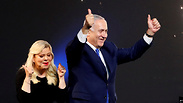 Benjamin Netanyahu heading into his 5th consecutive term as Prime Minister, has a clear majority of support to form a right wing coalition government
"This is an unimaginable achievement," Netanyahu said, at around 2am. "I am very moved tonight, a night of tremendous victory. I am very excited that the people of Israel once again trusted me for the fifth time, and with greater confidence."
He added: "I have already started talks with the leaders of our right-wing parties, and almost all of them have publicly declared that they will recommend me to form the government, and will do so to our president. There will be a right-wing government, but I intend to be the prime minister of all the citizens of Israel, right and left, Jews and non-Jews, I care about everyone, that's how it was and that's how it will be. "
Netanyahu's Likud and the Blue and White Party lead by Benny Gantz appear to have 35 seats each, while the ultra-Orthodox Shas and United Torah Judaism parties each won eight seats. The once mighty Labor party was down to just six seats.
Moshe Kahlon's Kulanu party was on course to win four seats, while Hadash-Ta'al, Meretz were set to claim four seats apiece.
the Union of Right-Wing Parties has won five seats while the New Right party led for Ministers Naftali Bennett and Ayelet Shaked are hoping the soldiers' vote, not yet counted will carry them over the required threshold.
The results put the the rightist bloc in the lead with 65 seats, while the leftist bloc stands at 55 seats.
Benny Gantz had also claimed victory hours earlier, as the exit polls showed his Blue and White party locked in a tight race with Netanyahu's Likud.
"This is an historic day. Thank you to Netanyahu for his service for the country. Just as he said - the largest party should be the one to form the government," said Gantz, in a speech at his party headquarters just two hours after the release of exit polls that predicted a slight lead for his party over the Likud, but an advantage to the right-wing bloc led by Netanyahu.
One of the exit polls was later corrected to show a small lead for Likud.
"There are election losers, there are election winners - and we are the winners," Gantz said.
"They said we would not win, we won," Gantz said. "We will win in a way that is respectful to everyone, respectful of the past, respectful of the present, and building a joint future that is yet to come."
Gantz also vowed to move quickly to form the next government.
"We have a responsibility to form a government that will serve the State of Israel and not itself," he said. "The sooner we form a government, the sooner we can lead the State of Israel. We have a lot of work ahead of us."