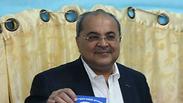 While the Jewish population in the country witnessed an election campaign full of intrigues, accusations and unprecedented emotions, the Israeli Arabs - who the prime minister claimed in 2015 were "flocking to the polls" - displayed an atmosphere of total indifference.
As the hours on the election day advanced, the Arab parties became increasingly concerned about a small voter turnout in the sector.
MK Ayman Odeh, leader of the Arab socialist Hadash-Ta'al party, called the turnout a "nightmare," just hours before the polls closed.
"It's the prime minister's fantasy - the Knesset without Arab representation - suddenly seems like it could become reality," Odeh said.
On Tuesday at 10pm, when the exit polls were released, it became clear Odeh's fear was justified and the Arab representation in the next Knesset would be reduced by half.
The way things look at the moment, Hadash-Ta'al just barely passed the electoral threshold with five Knesset seats, while the other joint Arab list, Ra'am-Balad, failed to pass the threshold altogether.
In comparison, in the 2015 election, the alliance of the Arab parties won an unprecedented 13 of the 120 Knesset seats.
"First of all, I want to say thank you to our voters - Arab citizens and Jews who believe in democracy - who went out to vote despite the incitement campaign, hatred and racist legislations and put their trust in us," said Odeh after the exit polls came out.
"Bibi (Netanyahu) understands this and we do too: There won't be a political change in this country without the power of the Arab sector."
One of the possible explanations for the small turnout is a complaint received by the Central Elections Committee that Likud activists had secretly installed 1,300 hidden cameras at several polling stations in Arab communities. That, however, was not the only reason.
Suha Masarwa from Wadi Ara - located northwest of the Green Line near Haifa - was one of those who decided not to vote.
"I will not vote for any party and will not participate in giving way to a racist Knesset focused on occupation," she said.
Another resident from Umm al-Fahm called on the Arab population to boycott the elections.
"The Arabs are determined to abstain from voting because of many reasons, including the political union between Hadash and Ta'al," he said
"We will teach them a lesson and the next four years they will spend worrying about their pockets."