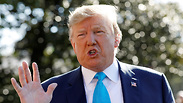 US President Donald Trump on Wednesday welcomed Benjamin Netanyahu's re-election as prime minister as a good sign for peace.

"Everybody says you can't have peace in the Middle East, with Israel and the Palestinians," Trump told reporters at the White House.

"I think we have a chance. I think we have now a better chance with Bibi having won," he said, referring to Netanyahu by his nickname.

Netanyahu secured a clear path to re-election on Wednesday, and a record fifth term in office, with religious-rightist parties set to hand him a parliamentary majority, despite a close contest against his main centrist challenger, Benny Gantz.

"He's been a great ally and he's a friend. I'd like to congratulate him on a well-thought-out race," Trump said.

During the election campaign, Netanyahu highlighted his close relationship with Trump, who has implemented a series of policy changes on the Middle East that were seen as a boon to Netanyahu.

Last week, Trump announced that the United States was designating Iran's Revolutionary Guards a "foreign terrorist organization," a move that Netanyahu claimed in Hebrew on Twitter had come after a request he made of the president. It is the first time that the US has designated a part of another government as a terrorist organization.

"This unprecedented step, led by the Department of State, recognizes the reality that Iran is not only a State Sponsor of Terrorism, but that the IRGC actively participates in, finances, and promotes terrorism as a tool of statecraft," said Trump in a statement.

Trump also walked away from the Iranian nuclear deal painstakingly put together by his predecessor Barack Obama and his European allies in July 2015. Netanyahu had long condemned the deal as insuffiencient to keep Iran from obtaining a nuclear weapon, and Israeli television last year aired a recording of Netanyahu claiming that Israel had led Trump to abandon the agreement.

In March, Trump - with Netanyahu at his side - signed a decree recognizing Israeli sovereignty over the Golan Heights, which was captured from Syria in the 1967 Six-Day War.

"My dear friend Donald, you have demonstrated consistent and extraordinary support for Israel, in our right to defend ourselves," Netanyahu said after the ceremony. "You are never deterred, you are always present, including today and I thank you."

He added: "Throughout the years, Israel has had an excellent relationship with the United States but there has been no greater friend than you."

Trump's most controversial move regarding his policy on Israel and the Palestinians came in May 2018, when he moved the American embassy from Tel Aviv to Jerusalem, infuriating the Muslim world.

Ivanka Trump and her husband Jared Kushner were in attendance when the new embassy was inaugurated, as was a jubilant Netanyahu.

"What a glorious day for Israel," Netanyahu said. "Remember this moment. This is history. President Trump, by recognizing history you have made history. All of us are deeply moved, all of us are deeply grateful."

"This is a great day," he continued. "A great day for Jerusalem. A great day for the state of Israel. A day that will be engraved in our national memory for generations."