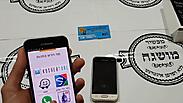 The rabbinical committee that oversees "Kosher" phones (phones that have limited, filtered internet access and no texting), ruled that hotlines for victims of sexual abuse be banned from the "kosher" network and some ultra-Orthodox Jews are suing.
According to attorney Yuval Gideon, who is submitting the petition on behalf of the plaintiffs, a man or a woman in need of advice or counseling following a sexual assault have no recourse. "There are variances among the different network operators and some allow users to dial (the hotlines) while others do not. The issue of blocked numbers is completely arbitrary and unregulated," he said.
Gideon says that the rabbinical oversight committee makes all decisions regarding which numbers to block with no possibility to appeal. "According to communications law, it is illegal for network operators to arbitrarily block numbers. In addition, these phones are used by consumers who have no other choice. Many Haredi institutions do not accept students if they have a non-"kosher" cell phone," he added.
According to Gideon, when he sought an explanation for the blanket ban, he was rebuffed and the rabbis refused to respond to his queries. The communications committee also did not respond.
Do the cellphone companies have the authority to block access to numbers that can be lifesaving?
"We believe that they cannot. But the phone companies are motivated by profit. Imagine that the phone company is threatened that if they do not heed the dictates of the rabbis they will lose a lot of business," Gideon replies. "There are new phone companies that lack an agreement with the rabbinical committee and all of their numbers are blocked. One cannot call them because they do not provide a "kosher" option.
Gideon concluded: "We hope that the struggle isn't over. There has been a significant increase in inquiries to the assistance hotlines from the Haredi sector, both by men and women. There still remains a gap between the Haredi sector and the general population. Imagine the poor boy who draws the courage to reach out for help and is told that the number is blocked."