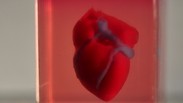 Human heart made by 3D printer
For the first time ever, a live heart was printed and presented as part of a study at the Tel Aviv University, and in the Advanced Science journal.
The study opens a window into the future medicine which, they predict, will be free of organ transplantation and rejection, and include specifically printed organs using tissue taken by the patient himself.
Scientists involved say this technology will be available within ten years.
This groundbreaking technology was developed by Dr. Nadav Nur and Dr. Assaf Shapira working at the life science lab of Prof. Dvir at Tel Aviv University in cooperation with the faculty of engineering and the Segol biotechnical center.
3D printer for human organs
Prof. Dvir told reporters that since the invention of the 3D printer, scientists have been trying to print human organs using live tissue.
This study has solved many of the challenges that have come up.