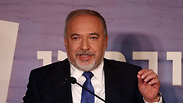 Yisrael Beytenu Party Chairman Avigdor Lieberman spoke to the press at an event held at the Bible Lands Museum in Jerusalem Monday evening. "The voters had their say, the election results are clear, the Right won 65-55. Tomorrow we will recommend Benjamin Netanyahu for prime minister," he said.

"Unfortunately, the religious and ultra-Orthodox factions grew to 21 or 22 Knesset seats," he added. "I see this as a threat to the ideals of (Zionist revisionist leader Ze'ev) Jabotinsky. This is something I am concerned about, but I am taking it into account. The voter has made his decision."

Regarding the possibility of forming a national unity government with the Likud and Blue and White, Lieberman was dismissive saying that there needs to be a central issue around which the unity government focuses on, otherwise it leads to dysfunction. "Currently, there is no need for a unity government," he said, while pledging not to compromise on his ideals.

Netanyahu needs Lieberman in order to form a Right-wing coalition. He is expected to be a tough negotiating partner.

Lieberman also touched upon the draft bill that the Haredim oppose. He said that he would not agree to any changes whatsoever, "It is not anti-Halacha or the Haredim, it is pro-IDF."

He went on to list the Haredi demands that his party would refuse to submit to in any coalition agreement such as the demand to cancel all construction work on Shabbat or legislate a Basic Law for Torah study.

MK Uri Maklev (Yahadut Hatorah) responded to Lieberman's comments on the draft bill: "He is trying hard to gain a negotiating advantage in order to receive a more lucrative portfolio. He is trying to be the bad boy of the coalition… He wants to be defense minister."

Lieberman thanked his supporters saying that political pundits predicted the demise of his party and politicians from across the spectrum opposed it.

"We fought the coalition that tried to eliminate us; total war, conducted by means I have never before witnessed — online, fake surveys, bots… I witnessed attempts from all directions; apparently we are an important political player," Lieberman said.

Regarding the polls that predicted that he would not garner enough votes to cross the electoral threshold, he said that it raises questions regarding the use of polls to manipulate public opinion. He pledged to enact legislation to ensure full transparency with regards to online activity related to the elections. "I want to know who is funding the poll and who they are working with."

He pondered, "how is it that all the polls gave the Zehut and New Right parties seven or six seats but Yisrael Beytenu zero?" He asserted that his opponents waged psychological warfare against his party.

"Before the elections they said that we won't make the threshold and that the party is over. But now, Yisrael Beytenu holds the key to the coalition… Even our political rivals respect us now," said party MK Oded Forer.

Another delegate, Eli Avidar criticized the fact that the Knesset Finance Committee is headed by Haredim (Moshe Gafni) or Arab MKs as they "represent sectors of the population that pay less taxes."

It was reported earlier that while on vacation in Europe, Lieberman met with Yair Lapid to discuss the possibility of forming a national unity government without the Haredi and far-Right parties and thus advance civil marriages, public transit on Shabbat and budgetary changes. But the report turned out to be false as Lapid was in Paris and Lieberman in Vienna.