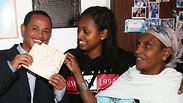 Atankot Stutau preparing for Passover with his family in Beit Shemesh (Photo: Yariv Katz)
For more than a decade, 29-year-old Atankot Stutau was one of the leaders of Jewish Community in Gondar, Ethiopia. Until recently he served as the community cantor and Hebrew teacher, and even baked Passover matzah for the Jews in the city.
But for Atankot, this Seder night is not like all other Seder nights, for this year he will celebrate the first night of Passover in Israel, with his family in Beit Shemesh.
Stutau was born in a small village near Gondar. He lost his parents as a very young child and was adopted by his mother's sister.
"From a very young age I knew I was a Jew, and was raised as a Jew. My aunt and uncle made aliyah to Israel 11 years ago, and since then my 34-year-old brother and I have celebrated the Jewish holidays and struggled to make aliya to Israel, which is our country," said Stutau.
Aynaw Ahila, a student and former IDF soldier, met Stutau when visiting the Jewish community in Gondar.
"I visited Ethiopia four years ago," he said. "Atankot was the cantor of the community. He is an amazing young man. He knows Halacha (Jewish law) and teaches and educates children as well as adults in Gondar."
According to Stutau, the preparations for Passover in Gondar begin a month in advance.
"We bought the flour and then I took it to a local mill and for three weeks we baked a very large amount of matzah - enough for the entire community of almost 6,000 people."
For Stutau, who is celebrating his first Seder night in Israel, the approaching holiday is the cause of great excitement.
"I will not have to celebrate Passover in the Diaspora," he saidd. "I truly hope that all those who are waiting will also immigrate to Israel, and I am happy that my 91-year-old grandfather, my brother and I will celebrate the holiday together with our family in Beit Shemesh."
Alisa Bodner, a spokeswoman for the Struggle for Ethiopian Aliyah, joined Stutau in calling on the government to help the rest of the Jews in Ethiopia come to Israel.
"The first Passover for the new immigrants in Israel is celebrated with great joy mixed with sadness," she says. "The new immigrants, some of whom waited for more than a decade (to make aliyah), finally arrived in Israel. On the other hand, there are close to 8,000 community members still waiting so that they too can celebrate the next Passover holiday in Israel together with their families."
She added: "We demand that the government implement its 2015 decision and bring the rest of the Ethiopian Jews to Israel, so that the famous line we recite at Passover, 'Next Year in Jerusalem,' is not just a prayer but also a reality."