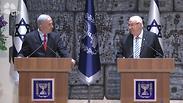 ראובן ריבלין בנימין נתניהו הצהרה חתימה כתב מינוי הרכבה הרכבת ממשלה בית הנשיא
Photo: GPO
When President Reuven Rivlin tasked Benjamin Netanyahu on Wednesday night with forming the next government, one could almost hear the prime minister's words from last October, in which he claimed that Rivlin and his Likud rival Gideon Sa'ar were cooking up a "plan of the century" to overthrow him.
But there was no conspiracy. The only thing that Rivlin did Wednesday night was to direct two sentences of implicit criticism in Netanyahu's direction.
"'Us and them' is over. From now on, it's just 'us,'" Rivlin said, turning to Netanyahu, who seemed to be hopping on hot coals in his impatience for the president to finish talking.
Rivlin made the same case in a series of tweets in English after the meeting.
'Us and them' is over. From now on, it's just 'us'. Now is the time to stop fighting 'them' and to regain belief in 'us'. To fight for our home, a place where secular, religious and ultra-Orthodox, Jews and Arabs, left and right can find their place - as equal partners.

— Reuven Rivlin (@PresidentRuvi) April 17, 2019
But the "us and them" ploy is far from over. Those intimately familiar with Netanyahu maintain that he does not say anything by chance. His comments on Tuesday at the Likud victory celebration hinted that he intends to appoint Yariv Levin as justice minister, a senior Likud official said. It was almost a commitment.
Of the two options facing Netanyahu – Bezalel Smotrich and Yariv Levin - it is natural for the ministry to go to the latter. He is high on the party's Knesset list and closer than anyone else to Netanyahu.
And what about Avigdor Lieberman of Yisrael Beiteinu? Likud officials are convinced that he is trying to extort Likud membership from Netanyahu, which under ordinary circumstances Netanyahu would never be able to get past the party's central committee, given their history with the veteran politician.
But while Kahlon would be met with open arms in the Likud, Lieberman is a completely different story. So he presents the only threat that Netanyahu could take to the committee - without Lieberman, I have no government.
Anyone who depends on Lieberman and makes him into a Kahlon B - the watcher on the walls for Likud's liberal, secular bloc - should have a reality check, a senior party official told me this week. What Liberman wants is a senior portfolio, perhaps two, and integration into the Likud. He is trying to achieve these aims through threats and ultimatums that he must be met in order for him to join the government.
It won't happen, says the senior official.
The Likud remembers how after the 2013 elections, Lieberman chose to go into opposition despite the guarantees he received. Even during his last term, he resigned from the government.
And the more the media hails him as someone who could torpedo the establishment of the government, the greater his bargaining power will be.
Will a solution be found to Lieberman's demands, including the legislation to draft the ultra-Orthodox, which Netanyahu's other potential partners have ruled out? Another senior Likud member is skeptical. He is not sure that the mess surrounding the draft law can be resolved.
"Remember my words," he says. "I won't faint from shock if no solution can be found."