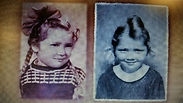 Holocaust survivors give testimony
Courtesy: Reut
The study conducted by professor Amit Shrira, from the Interdisciplinary Department of Social Science, examined 187 sets of parents, among them survivors who suffer from post-trauma afflictions and their children.
The findings show Post Traumatic Stress Disorder (PTSD) is passed on, by parents, to the second generation and results in irresponsible behavior including smoking, alcohol abuse and no exercise. Compared to children of parents who do not suffer from post trauma.
Professor Shrira pointed out there are initial indications that biological processes are involved.
His study found most children of Holocaust survivors grew up to be productive, well-functioning adults but those who's parents suffer from PTSD are more prone to unhealthy behavior.
Those are also more likely to report health issues that point to a quicker aging process.
"Holocaust survivors suffering from PTSD tend to develop health-threatening behaviors and pass on these habits to their offsprings," says Prof. Shrira.
"Most of the descendants of Holocaust survivors have grown up to be healthy adults. There are, however, some who have higher risk of developing mental and physical illnesses which require professional treatment," he added.