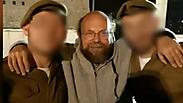 Aharon Granot manages 11 apartments where 35 ultra-Orthodox (or formerly religious) soldiers reside. He serves as a father figure to young men who have lost contact with their biological families, some of whom have even performed the traditional Jewish mourning ritual over their wayward, but very much alive, sons who have decided to enlist in the IDF.

"When I founded the foundation, I thought that given some time and exposure to their stories, my emotions would be dulled as occurs with many social workers," says Granot, a former Haredi journalist and current director of the Osey Chail foundation. "But it did not happen. Whenever I hear new stories, I cry all over again. I cannot comprehend how such things are happening." He is referring to the accounts he hears regarding what many Haredi draftees endure.

The foundation was established two-and-a-half years ago and it provides housing for lone soldiers, sometimes working in tandem with Friends of the IDF.

"It cannot be that those who enlist to protect the state and the nation should not have where to return to at night (or on weekends)," Granot says.

"They pay a much higher price than my own children pay because when my son returns from the army, he has a loving mother and father. They don't. I couldn't sleep at night; I decided to do something."

Granot did not initially set out to establish a full-time foundation. It started out as an act of assistance providing a needy soldier with a home that quickly turned into a second apartment.

But by the time he opened the third apartment, he realized that it was his calling and he quit his former job to dedicate himself to the cause of helping ex-Haredi IDF recruits.

"Two weeks before I drafted, my parents heard about it," said Ronny Cohen, the first Haredi soldier adopted by Granot.

"They called to tell me not to return home. Six months after I enlisted, notices were posted lambasting me for 'falling' into the clutches of the IDF."

"I tell the soldiers: your smiles strengthen me. When I need some reinforcement, I go to one of the apartments and see them smiling and it does the job," Granot says.

The foundation has 11 apartments. 10 for active soldiers and rented by the more senior recruits who wish to remain within the micro-community founded by Granot.

"These are 35 soldiers to whom we are parents and we do for them all that biological parents should be doing for them and don't," he says.

Avi Friedman left the Haredi way of life and is set to enlist soon. He says that he lost contact with his parents even before he decided to enlist. They do not wish to maintain contact with him since he left the fold, he says.

Friedman wants to join the IDF in order to contribute to his country and be an active part of it. Before meeting Granot he lived on the streets or in hostels. "My dream is to be a model; Aharon came with me to the auditions. He is really like a father to me," he says.

Donations to Granot's foundation can be made here .