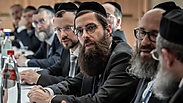 European rabbis
Photo: Eli Etkin
A dark shadow hung over the biannual convention of the Conference of European Rabbis (CER) which took place in Antwerp, Belgium over the weekend. Rabbis from across Europe, as well as senior Israeli rabbis, gathered for the 31st time to discuss and debate the pressing issues facing European Jewry.

But this year, Flanders, the Flemish-speaking region of Belgium, banned kosher slaughter, joining five European countries where slaughter is already banned. Proposals to ban non-medical circumcision are also being examined in several countries, and European Jews beholden to Jewish law (halacha) are feeling increasingly under attack, all while anti-Semitism is already pulling out the rug from under their feet.

"We must recognize the harsh statement by European society toward us," the conference's president Rabbi Pinchas Goldschmidt told Ynet. "They are telling us that if you Jews wan to remain here among us, you must stop being Jewish. They are claiming that our customs, circumcision and kosher slaughter, are unenlightened. But we will fight for our traditions."

Discussions between the Jewish community and local leaders began a few years ago but only made headlines recently with the rise of the far-right and the entry of millions of Muslim refugees into Europe in recent years.

"We have competent mohelim (who perform circumcisions) who know their occupation and kosher slaughterers," said Goldschmidt, who has served as the chief rabbi of Russia for the past three decades.

"Suddenly 40 million Muslims who perform circumcision at a later age arrived in Europe, and they are performed by non-professionals, which leads to accidents. The concern over Muslim immigration brought about the bans on circumcision and kosher slaughter. They do it so that Muslims will leave Europe, but on the way, they forgot that it harms Jews as well."

During a discussion about the issue, British Chief Rabbi Ephraim Mirvis, German parliamentarian Marcos Grobel — who deals with matters concerning freedom of religion — and Katharina Von Schnurbein, the European Coordinator on combating anti-Semitism, were present.

The latter argued that the controversial laws are not anti-Semitic: "They make Jews' lives harder but it is clear to all that freedom of religion is very important to us," she said.

"These laws were not written to remove the Jews from Europe; Europe without its Jews will be an entirely different continent. On the other hand, we have a constitution and the law was approved by 28 nations and like any other law, the moment it is passed, kosher slaughter becomes illegal, unless the country in which it takes place authorizes it," Von Schnurbein said.

Rabbi Goldschmidt does not agree with Von Schnurbein, asserting that the issue has little to do with animal slaughter itself and more to do with controlling religion. "Our job is to advance the religion and not defend it in places where they think that Google is God," he said.

"This conduct is like an ostrich burying its head in the sand. I am not saying that the law is anti-Semitic, but it does severely harm Jews" the rabbi added. "Throughout history, such legislation always led to something worse and it mainly reflects a lack of tolerance towards minorities in Europe."

Mardos Grobel called attention to the fact that when Germany banned ritual slaughter for reasons of animal cruelty, Jews and Muslims received religious exemptions, "but then, animal rights groups expressed concern that the move would undermine their goals and criticized it. But we, the German government, say that religious freedom is above all else."

Antwerp Mayor Bart De Wever, whose party supported the slaughter ban, asked for all parties to be patient and wait for the European Court of Justice to rule on the matter. He also said that Jewish leadership did not handle the issue properly and should have begun their efforts against the legislation earlier.

"Now, it is already under the jurisdiction of the court and if they rule that kosher slaughter must be allowed then a solution will be found," he said, adding that he considers it important that the Jewish community remain in his city and that they should also be ready for a fight.

Referring to the rise in attacks against Jews in Europe over the last year, Israel's Sephardic Chief Rabbi Yitzhak Yosef said that synagogues should have security guards, non-Jews preferably.

"We are in the midst of an upsurge in anti-Semitism unfortunately," said Elan Carr, U.S. Special Envoy for Monitoring and Combating Anti-Semitism.

"There have been incidents throughout the world, including the United States which is a country which supports Jews, it is really a global crisis. We must come together to combat this poison."

Carr said that the attacks at U.S. synagogues "broke his heart" and that President Trump is personally committed to the Jews and the State of Israel. "We must work together to decrease the phenomenon of anti-Semitism and secure Jewish institutions and choke the money supply to terror organizations — which included the Iranians who are promoting an anti-Semitic ideology in the Middle East."