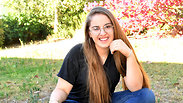 Israeli teen carries hope of peace to New York program
Growing up in the shadow of war close to the Gaza border has not stopped Mika Cohen from wanting to encounter Syrian, Iranian and Palestinian teens; she plans to show them a picture of an explosive device that landed in her back yard, 'but not talk politics'
A 15-year-old girl who grew up in a community on the border of the Gaza Strip and endured years of rockets and sirens, is going to New York to bring a message of peace to Palestinian, Iranian, Syrian and Lebanese teens.

Mika Cohen from Ein HaBesor, a moshav in the Eshkol Regional Council, grew up in a painful reality of conflict. Rockets were regularly fired at her community from the Gaza Strip, and the sound of explosions across the border brought with it a fear that never lets go.

After a grueling series of tests, Cohen was accepted to a four-week leadership program that will start in June and include teens from around the world. The New York program aims to promote dialogue between teenagers and bridge gaps between them.

Cohen will be taking with her a picture of an explosive device attached to balloons, bearing the picture of the Al-Aqsa Mosque. This device landed in her back yard six months ago, but luckily didn't explode. She was able to take its picture right before police officers arrived to defuse it.

Cohen will also be showing her colleagues footage of rockets striking her community, her scared neighbors running for shelter, and the reinforced school that she attends.

"I filmed rocket launches, Iron Dome interceptions of missiles, fires and one video showing my sister and I running for shelter during a siren. It all comes to show the difficult reality in which we live in," Cohen says.

But the young leader has no intention of approaching her Arab counterparts in anger. She wishes to speak to their hearts, explain the security problems that Israel's southern residents endure, and also hear their stance and reach an understanding.

"My message to them is that if we all work to make things better, things will get better," Cohen says. "I want them to hear about my life in the Gaza region, but I don't want to talk politics, I want to have an face-to-face conversation, like human beings. We might be able to live side by side and be good neighbors that way, instead of shooting at each other."

"It's an honor to represent Israel. I hope to come back with many new friends from other countries, but mostly, I want to make a difference," Cohen says.