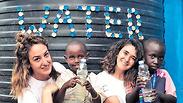 Selda Edris and Mayes Morad in Uganda
Photo: Gali Margalit
Young Israeli engineers bring clean water to Ugandan community
When two students from northern Israel discovered that drinking water cannot be taken for granted in the impoverished African nation, their first act after graduation was to build purification device for 900 children who were drinking swamp water
Selda Edris and Mayes Morad, 26, were young water engineering students when they were first exposed to the poor living conditions Uganda. When the two young women from the Galilee graduated, they knew that that's where they wanted to go to volunteer, so that they could help provide the local community with clean drinking water.

The two young engineers graduated and joined the HELPAPP organization, which aims to provide humanitarian aid to developing African countries. Edris, from the village of Rehaniya, and Mayes, from the community of Beit Jann, made their dream come true when they were finally able install a water purification device in a Ugandan community, to allow the community to purify the water of a nearby swamp.

Before Edris and Morad arrived at the Ugandan community where they volunteered, all 900 school children from the region drank water from a nearby swamp that filled up in winter.

The three schools in the community boiled the swamp water before drinking, but that was hardly enough. There was dire need for a safe solution.

According to Edris and Morad, finding a solution was challenging. However, they were finally able to install sinks and taps in the schools and connect them to a proper purification facility. When they were done, 900 children had running water.

"We were amazed by the living condition of the children," said Morad. "We were to exposed to horrible poverty and were shaken to see children shivering when it got cold, barefoot or with torn shoes."

Besides the efforts to supply the schools with running water, the two also set a Facebook fundraising campaign to buy shoes to many of the children.

"When I saw how happy they were when they just turned on the tap and water came out, I thought to myself, what in the world would make me, or my nieces and nephews who are the same age as these schools kids, feel so happy?" says Morad.

"The joy in a child's eyes when he opens a tap to wash his hands and water comes out stayed with me," Morad continued. "It's difficult to imagine that there are children in this world who don't have the most basic commodity — drinking water — just because they weren't fortunate enough to be born in the right place."

"Clean water is a basic right for every person in this world. Regardless of where you were born," Morad concluded.

"We've helped hundreds of children but we know there are many others in other parts of Uganda, who don't consider drinking water a given," Edris says. "We want to come back to Uganda and initiate a larger scale operation."

"I asked a 13 year-old girl what she wanted most, and was amazed to hear that she wanted clean water, clothes and an electrical light at home, to light up the house when it gets dark. What we take for granted isn't taken for granted in so many places around the world, and that's sad. She broke my heart," Edris says.