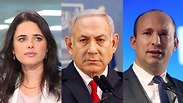 L-R: Ayelet Shaked, Benjamin Netanyahu and Naftali Bennett
Photo: AP,Yaron Brener, Alex Kolomoisky
Netanyahu fires Bennett, Shaked from ministerial posts
Government sources say the two cannot stay on as education and justice ministers given that their New Right party failed to pass threshold in April 9 elections; Smotrich, Peretz demand to replace the two in cabinet; PM said unwilling to find spot for Shaked on party list in light of recent insult
Prime Minister Benjamin Netanyahu on Sunday informed Education Minister Naftali Bennett and Justice Minister Ayelet Shaked that they have been fired from the government and the cabinet.

"Bennett and Shaked cannot continue in their sensitive roles in the cabinet for another six months as they were not elected by the public," government sources said.

The two split from Jewish Home ahead of the April 9 elections to form the New Right party, which narrowly failed to pass the threshold to enter the Knesset. The party was just 1,400 votes shy of winning seats in the short-lived 21st Knesset.

A source close to Shaked said the former minister was surprised at Netanyahu's decision.

Sources close to Bennett said Sunday that he intends to run in the September 17 elections for the 22nd Knesset with the New Right.

Following the announcement of the firing, the leaders of the Union of Right-wing Parties Rafi Peretz and Betzalel Smotrich requested that they replace Bennet and Shaked to head the justice and education ministries. The attorney general issued a statement earlier saying that such temporary appointments can go forward without the approval of the Knesset.

The party also said that there is an understanding between Peretz and Smotrich to only join the government if both of them receive a portfolio and that in the event that Netanyahu offers a ministry posting to only one of them, both will remain outside the government.

Reports are circulating that Netanyahu intends to offer the transportation portfolio to Smotrich, after it was vacated with Yisrael Katz's appointment as foreign minister. The Justice Ministry post was reportedly offered to Yariv Levin (Likud), but he turned it down saying he sees no point in a temporary appointment.

Earlier, the Union of Right-wing Parties accused the prime minister of trying to frame them as being behind the firing of Bennett and Shaked. They said that Netanyahu asked that they call for their firing but they categorically refused.

Meanwhile, officials in the Likud are trying to find a spot for Ayelet Shaked on its list for the next Knesset.

Likud Central Committee Chairman Haim Katz told the prime minister that Shaked "is worthy and is an electoral force that will strengthen the Likud."

Netanyahu, however, told Likud members that he did not intend to secure a place for Shaked on the party list.

According to Likud sources, Netanyahu's inner circle "has not forgetten that Shaked said six months ago that this would be Netanyahu's last term as prime minister."