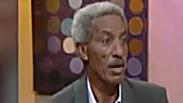 Israel's Ethiopian community is commemorating the 40th anniversary for the journey on foot to the Holy Land and remembers one of its most important hidden heroes — Ferede Aklum.
Aklum, who passed away in 2009, was a Mossad agent who led the first group of Ethiopian Jews through the desert and paved the way for Operation Moses and Operation Solomon; despite being widely known in the Ethiopia community, his is an obscure name to other Israelis, and Ferede's brother, Amram, is determined to change this.
"People often talk about Israeli security forces when they discuss the immigration story, but those who actually walked through the desert and buried the dead along the way were the activists, like my brother," says Amram Aklum.
Amram describes his brother as an inspiring and brave man, headmaster of a local school and of their regional council in Ethiopia, whose biggest dream was "to make it to Jerusalem."
"You grow up with it," Amram says, "you live in this environment and family that constantly talks about Jerusalem."
This was what pushed Ferede back in 1976 to move to the Ethiopian capital of Addis Ababa, and reach out to the Israeli embassy in order to make the journey to Israel, despite the Jewish state's lack of interest and refusal to accept Ethiopian Jews into the country.
"There was a barricade against immigration back then," Amram says. There wasn't much chance for people like Ferede.
But things started changing when a group of Ethiopian illegal immigrants made it to Israel, and despite warrants to deport them, they stayed in the country and started protesting. Meanwhile, in the U.S., American Jewry joined forces with their struggle, joining such figures as Baruch Tagania, an Ethiopian activist and Mossad agent who led the battle in North America to acknowledge the plight of Ethiopian Jewry.
"They told Israel that if it didn't open its gates, it would be guilty of racism," Amram says. The struggle finally bore fruit, and an agreement between Israel and Ethiopia started to take shape.
In 1977, Ferede met with an Israeli security official who asked him to organize a few families and plan the journey to Zion.
"There was already an agreement between the two countries then (about the permit to immigrate to Israel)," says Amram, "Israel supplied Ethiopia with arms in exchange."
But after just two flights successfully brought several Ethiopian Jews into Israel, news of the secret arms deal emerged, causing a worldwide commotion, and Ethiopia backed out of the agreement.
Ethiopia cancelling the arms deal marked the start of a dark period for Ethiopian Jews.
"Political persecution began of Zionist activists who were involved in the immigration process," says Amram.
"People's lives were under threat, Ethiopia was a murderous dictatorship back them," Amram says. "Anyone who was suspected of cooperating (with Israel) could be shot in the head."
Ferede became a wanted person and was able to flee to Sudan by the skin of his teeth. He arrived there penniless, and after begging in the streets, contacted Mossad.
"He only kept three addresses (during the turmoil of fleeing the country)," says his brother. "One was of an American aid organization - a Nairobi address and details of an Israeli security official he knew. But he had no money to send a letter, so he had to sell his gold wedding band to pay for it, and it slowly made its way into the hands of the Mossad."
When the Mossad got word of Ferede, an agent went to Sudan to find him. He then joined Mossad himself, educating them about the journey he had made from Ethiopia to Sudan. The paths he had discovered then became the prototype for Israeli intelligence agencies who used them to lay the infrastructure for Operation Moses.
Ferede was the one who led the first group of Ethiopian Jews into Sudan.
"But It's not just Ferede," says Amram. "It's our mothers who made this incredible journey and deserve respect and acknowledgment for that."
"The story of these people has an educational value for Israeli society," Amram says. "They live among us, and they are treated with disrespect."
He , slamming Israeli society for failing to include the Ethiopian story into the Israeli narrative.
"We have a lot to learn from them about loving this land, about Zionism, about sacrifices and about making a 2,000-year-old dream come true," he says.