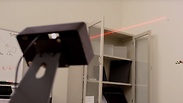 Israeli technology start-up Bzigo has developed a machine that scans a room for mosquitoes and once it detects that it has landed, the device points a laser beam at it, while sending a message to a phone app, allowing the recipient to easily locate the pest and kill it.

The device was developed over three years and looks like a box the size of a compact smartphone that can be connected to the wall or stand-alone on a flat surface. Although the current model only helps locate the mosquito, according to Bzigo CEO Nadav Benedek, they are working a future model that will be able to eliminate the mosquito on its own.

"In reality, killing (a mosquito) is the easy part - the real challenge is in detecting them. Mosquitoes are adept at avoiding human vision, attacking us when we don't notice them. But once you know a mosquito is in the room and see where it landed, killing it is simple," the company's website explains.

The technology is based on an algorithm that can detect the movements of a mosquito with a wide-angle high-resolution camera that constantly photographs the walls and ceiling of a room to locate the pest, before sending a message via Wi-Fi to the homeowner's smartphone. The device can also work when not connected to the internet.

The product is the brainchold of Saar Wilf, 45, who has invested in 17 different companies, some of which have been sold for tens of millions of dollars; and Nadav Benedek, 38, a former engineer at Sun Systems (Sandisk) as well as at other high-tech companies. Both served in the elite IDF intelligence unit 8200.

"To date, we have carried out hundreds of tests with live mosquitos," says Benedek. "At first, Saar would spend hours trapping them with containers and nets, but then we found a supplier from the Emek Hefer region."

Asked why they chose to focus on mosquitos when the world has many more pressing problems, Wilf said that "anyone with a technological inclination, has at some point in their life thought to find a technological solution to this annoying problem; we were just persistent."

Benedek described how growing up in the central Israeli town of Pardes Hana, the home was surrounded by netting but he recalls his father checking his room for ten minutes to find and kill mosquitos before bedtime.

Bzigo is safe to use near children, food and in hospitals. Although the initial model is made for home use, the company plans to produce a model suitable for industrial use, such as to kill pests on farms and in hothouses.

The device is expected to be available on the market in 2021 and will sell for about $170. For $9, one can reserve a model now and receive a $30 discount upon purchase.