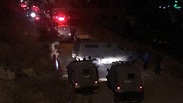 IDF forces in Nablus early Tuesday
IDF misidentifies PA security personel as terror suspects, leading to exchanges of fire
Israeli military enter the Palestinian Preventive Security Service HQ in the West Bank city of Nablus overnight in what appears to be a case of mistaken identity; Palestinian sources say at least one PA security services member was wounded
Heavy exchanges of fire between Israel Defense Forces and Palestinian security forces occurred in the West Bank overnight after Israeli troops mistakenly identified the personel at the security services HQ as terror suspects, the military speokesperson said Tuesday.
The IDF Spokesperson's Unit said that as part of the troops' operational activity in the city of Nablus, exchanges of fire broke out between the soldiers and those the military identified as individuals suspected of terror activity. "There were no casualties among our troops and the incident will be investigated," said the IDF Spokesperson's Unit in a statement.
At least one member of the Palestinian Preventive Security Service was wounded during the incident, according to the local medical sources.
The security officials in the Palestinian Authority, however, tried to play down the seriousness of the incident, denying the potential crisis developing between the Palestinian security forces and the Israeli security echelon.
"We assume the incident in Nablus is the result of a misunderstanding. It's being investigated and the communication with the Israeli security establishment continues," said a Palestinian source.
According to the findings of a preliminary investigation, the Nahal Brigade soldiers entered Nablus for routine search for illegal weapons. When the troops were passing by the building of PA's Preventive Security Service, they mistook the Palestinian security personel for armed terror suspects and opened fire in their direction.
Nablus Governor Ibrahim Ramadan - a former senior officer in the Preventive Security Service - said the IDF opened fire at the HQ building. "The bullets penetrated the office through the windows," he said.
Ramadan also said the exchanges of fire took place on the first three floors of the building, and contrary to the agreement between the two sides, Israel did not warn the Palestinian District Coordination Office prior to entering Nablus.
Once the incident was over and Israeli forces had left the area, there were visible signs of gunfire with bullet holes along the walls and windows of the HQ.
The IDF is still investigating whether those planning the raid updated PA security personnel in Nablus of an impending operation in the city (as has become customary in recent years) in order to allow the Palestinian forces to vacate the premises.
In addition, the army is investigating whether the troops involved were properly briefed prior to the operation in the PA-run Area A where a building of the Palestinian Preventative Security Service would be considered a "sensitive location."