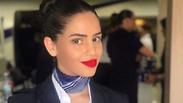 First Druze flight attendant in El-Al Merah Kera
El Al welcomes its first ever Druze flight attendant
Merach Kara grew up in a small village in northern Israel within a culture that frowns upon women simply flying on a plane, let alone working on one; but with the support of her family she decided to ignore the naysayers and follow her lifelong dream
Israel's Druze population has integrated into almost every part of society, yet Israel's main airline company has never had a flight attendant from the community, until now.
Merach Kara, from the small Druze village of Daliyat al-Karmel near Haifa, had to overcome the cultural traditions of the community she hails from in order to pursue her lifelong dream.
Kara grew up with her parents and two older brothers who now live in Tel Aviv. After finishing her national service via a channel for those exempt from military service, she enrolled in university, majoring in computer science.
Soon enough, however, she found herself bored and overwhelmed, and decided to apply for a job as a flight attendant at El Al.
"Working and studying at the same time was hard, and studying computer science was a bit boring, so I decided to pursue my dream since I was a little girl - becoming a flight attendant," she says.
"During our first-ever flight when I was four years old, I held my father's hand and told him - I want to be like her."
In Druze culture it is typically frowned upon for a woman to fly alone, let alone become a flight attendant. But Merach dismissed these cultural traditions in order to make her dream come true.
Her family were fully supportive of her decision and pushed her to pursue the profession despite the difficulties.
"They're aware of the hardships of my work ... but they accept it," she says.
Her father even says he admires her determined nature and accepts her choices, despite the views of some of those in their community.
"Merach is very brave and I love her stubbornness," he says. "We're proud that she chose to work at El Al. It's part of us and it's important that she chose this path. I wish her all the luck in the world and I'm sure she can achieve whatever she puts her mind to."
And although her friends were less thrilled about the idea, Kara claims such opposition would never stop her from achieving her aspirations.
Being of Druze origin, Merach speaks fluent Arabic as well as Hebrew, which she uses to full advantage when working with Arabic-speaking customers.
"I was certain I wasn't going to speak Arabic at all but to my surprise I did!" Merach says.
"I met an Arab family on one of my flights and formed a connection with them because of the language," she says. "The conversations between us were fluid. Knowing other languages is important in general but it helps even more now that I'm a flight attendant."
"It's never too late," she says of fulfilling one's dreams. "I hope that by becoming the first Druze flight attendant in El Al I can open the door for many more Druze women and help them explore the world."