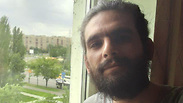 Amos Dov Silver after his release
Photo: Facebook
The founder and manager of online marijuana distribution network "Telegrass" was released from jail on Thursday, after being arrested in a raid by Ukranian police four months ago.

Amos Dov Silver, who currently remains under house arrest, wrote a lengthy post on his social media, announcing his release and accusing Israeli authorities of wrongfully targeting the network.

Silver was arrested last March along with 42 additional suspects by detectives from the Lahav 433 crime unit, known as the "Israeli FBI." Hours before Ukrainian police raided Silver's hotel room in Kiev he was quoted as saying, "police cannot do anything to us, it will take them years to bring this down." Arrests were also made in Germany and the United States.

"The suspects being held in Israel had been arrested based on absolutely nothing," he said in an interview with Ynet. "In addition, the police in the United States questioned my wife and set her free. I hope that Israeli courts will come to their senses and release the rest of the detainees soon."

"It's hard to explain how terrible the prison in Ukraine is, but it takes a lot to break me and my spirit when I'm fighting extradition to Israel," Silver wrote on his Facebook page. "If the Israel Police had a shred of evidence, I would not have been released under house arrest."

Silver said he'd been moved to seven different cells during his three-months long detention and "each cell was worse than the other … designed to break the spirit."

He said he'd been told by Ukranian officials that Israeli authorities asked them to keep Silver in extreme conditions in order to make him agree to extradition to Israel.

"I believe I will rest in the coming days, the nightmare has ended, at least for now, and it will resume at a different time."

Telegrass reportedly has over 100,000 members in Israel, including dozens of cannabis suppliers. The network enables instant anonymous cannabis delivery, and has an option for users to review the vendors and their products.