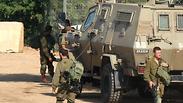 IDF troops on the Israel Gaza border
Photo: Roee Idan
Hamas fishing for intelligence on WhatsApp messaging service
When Hamas approached a paratrooper, they attempted to convince him they were not a risk by showing him information in their possession that was of a sensitive nature but the soldier on the Israeli side of the Gaza border, did not agree to reveal anything and alerted his commanders.
Hamas has been increasing its efforts to obtain intelligence from Israeli troops stationed around the Gaza Strip.

Identifying themselves as Israelis, Hamas cyber operatives have been contacting the troops via the WhatsApp messaging service, sometime presenting information they have already managed to get on troop movements.

The Hamas terror group has tried several times in the past few years to get sensitive information from soldiers in the border area using fake social media accounts and dating Apps or via Face Book using location tracking apps.

Most of these attempts have not been successful primarily due to an awareness in the IDF and a high level of alert but one effort in the past month was successful causing concern among military leadership.

A combat soldier serving with a paratrooper unit received a message on the WhatsApp messaging service from an unfamiliar number. The message was sent by a person who identified himself as a member of another unit requesting information including when the paratroopers were scheduled to leave the area.

When troops are replaced the number of incidents grows, such as the recent accidental killing of a Hamas operative Thursday in the northern Gaza Strip, an incident that involved the IDF admitting the shooting was a misunderstanding.

The departing troops are less alert on their final days in the field and the new arrivals are less familiar with the dangers.

The paratrooper who was approached via the App, refused to divulge anything despite being shown information that should not have been in the hands of anyone outside his unit. He alerted his commanders and an investigation into how this information came to be in the hands of Hamas was launched.

The IDF Spokesperson's Unit released a statement saying: " The IDF is aware of the enemy's activity and is following its efforts over social media. We call on all military and civilian personnel to act carefully and responsibly."