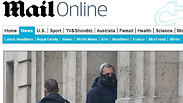 A screenshot of a Daily Mail article showing Ehud Barak entering the home of Jeffrey Epstein in 2016
Ehud Barak hits back as UK paper ties him to Jeffrey Epstein, threatens law suit
Former PM and IDF chief dismisses claims that he was hiding his identity as Daily Mail publishes old pictures of him outside New York townhouse of accused child sex trafficker, hinting at involvement in the alleged crimes; threatens to suit newspaper it doesn't apologize
Former prime minister Ehud Barak hit back Wednesday after British newspaper the Daily Mail published three-year-old images of him entering the New York home of accused child sex trafficker Jeffrey Epstein and appeared to link him to the disgraced financier's "parties" with young girls.
One of the images showed Barak covering his face with a scarf, implying that he was trying to disguise his identity. Barak, however, said that he had been trying to protect his face from inclement weather of January in New York.
Barak's lawyers demanded that the British newspaper apologizes for publishing the images and linking Barak to Epstein's alleged crimes, and threatened to suit the organization if it doesn't respond to their demand before 7pm Israel time on Wednesday.
"Guilty," the former prime minister wrote on Twitter on Wednesday.
"When its cold I tend to cover my face. Not just in New York but anywhere in the world. I never thought that it was news."
Barak added: "Stay tuned to the reveal of my scarf collection."
He also added an image of himself covering his face from the cold on another occasion.
The Daily Mail's headline read: "Married former PM Ehud Barak is seen hiding his face in entering Jeffery Epstein's NYC townhouse as bevy of young beauties also spotted going in despite his claim he never socialized with the pedophile and his girls."
The Mail article came a day after Barak gave an interview to the Daily Beast, stating he never attended a party with Epstein or saw him with women or young girls.
Barak told the Daily Beast that he had been introduced to Epstein by late Israeli statesman Shimon Peres.
"The man who introduced me to Epstein about 17 years ago was Shimon Peres," Barak told the website. He said the initial encouner took place during an event at which "there were many famous and important people, including, if I recall, both Clintons and hundreds of others."
A statement released Wednesday by Barak's Israel Democratic Party read: Ehud Barak rejects the loathesome insinuations by the newspaper's report. The allegations are baseless… This is not the first time the paper has published false reports about Mr. Barak and others."
Opposition Leader and head of the Blue and White Party Benny Gantz told Ynet in an interview Wednesday that he could not rule out involvement of "someone" in Israel who would benefit from this kind of reporting. He declined to say outright to whom he was referring.
"Things don't happen with only divine intervention," Gantz said. "I would rather not go there. I prefer to talk about the issues."
Barak recently unveiled his new party and announced his intention to oust Prime Minister Benjamin Netanyahu, who is facing a series of charges for alleged corruption.
The time has come to choose between "the State of Netanyahu or the State of Israel," Barak claimed.