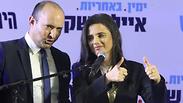 Ayelet Shaked leads New Right Party in advance of September elections
Ayelet Shaked to head New Right party ahead of Israeli elections in September
Shaked sees herself as the leader of the right of Likud bloc, urging all parties to unitr under her leadership, though Rabbi Rafi Peretz has not yet agreed to step aside and allow a non-religious woman to lead his voters in the September elections
Israeli right-wing politician and former justice minister Ayelet Shaked will head the New Right party and once again run with former education minister Naftali Bennett.

Shaked made the announcement during press conference Sunday night, marking her return to politics after resigning in the wake of the last election as the New Right failed to reach the threshold to make it into parliament.

Shaked will head the New Right party this time around, with Bennett serving as joint chairman.

Ahead of the press conference Bennett wrote on Twitter, "the country is more important than a personal advancement. The country needs a unified right."

The New Right has expressed interest in teaming up with the more extreme Union of Right Wing Parties (URWP), composed of the Jewish Home and National Union parties, respectively.

Shaked announced herself in position to lead this bloc and ensure all right of Likud votes are counted and none are lost.

The URWP is led by the Jewish Home Chairman and Minister of Education Rabbi Rafi Peretz who has not agreed to take a back seat to Shaked should the parties unite.

But while the smaller right-wing parties continue to deliberate over their approach to the upcoming September elections, Israeli Prime Minister Benjamin Netanyahu is reportedly trying to wedge his own priorities into the negotiations.

It was also reported in Hebrew media that Netanyahu's wife Sara met with Peretz's wife on Friday and urged her to tell her husband not to cede first place of the unified parties of the right.

Sara Netanyahu denied the report, saying it is "fictional."

Amid local reports on Netanyahu's objections over Shaked taking Peretz's top spot, the Prime Minister on Sunday summoned Peretz to an urgent meeting.

Peretz responded saying he "is pleased to see that the new rightists are reaching an agreement. Now is the time for true unification on the right. Ayelet and Naftali are already invited tonight for negotiations on the right's unification."




The Israeli public took to the streets recently calling for the resignation of Peretz from his newly assumed post after he made comments in favor of therapy to "convert" gay individuals into heterosexuals, adding that he has facilitated those undergoing the process.

He has since walked back from his comments, stating the he is "strongly opposed" to gay conversion therapy and never referred anyone for such treatment.