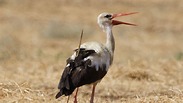 חסידה לבנה עם חץ חנית במאגר גלבוע
Photo: Ruthie Ram
Nature photographer and ornithologist Ruthie Ram went out on a weekend day to take photos of birds near the Gilboa Mountain, and was surprised by a very unusual sight.

"I walked around in a field in the early morning hours to observe birds. It was a Saturday, but a combine harvester was working, making wheat into heaps, and a few White Storks were around," she says.

"One of the storks drew my attention. I suddenly saw something jabbed into it, it was very powerful to watch."

"I watched it for about 15 minutes as it started cleaning its feathers. I realized it had an arrow sticking out of its body. Apparently, the arrow was stuck in a place that still allowed the bird to walk and fly," she said.

Ruthie was able to approach the stork and stood about 30 meters away from it, when it started to move away. She then called for help and kept watching the bird.

Shortly after, a volunteer from the Nature and Parks Authority came in to attempt to capture the bird, but the stork was surrounded by some 100 other specimens buy then. When they tried to go near it, it flew away.

Dr. Yoav Perlman from the Israel Ornithological Center said the bird is unlikely to be caught and taken to medical care, "unless it is found exhausted or injured."

This is not the first impaled stork Perlman has stumbled into. In June 2006, a stork with an arrow in its body was located in the Agamon Hula Park in Israel's north.

"It was evident that the stork migrated from Africa with the arrow in its body," said Perlman, "we tried to catch it but it flew away instantly. All I have is pictures and memories of a moving experience, that comes to show the amazing strength of migrating birds," Perlman said.

"It's inspiring to see how they keep migrating, despite all the challenges along their path, including hunters," he added. "Our gut feeling is to get angry when we see a stork who was targeted by a hunter. But I realize that if this hunter reached a point where he has to hunt a stock for food, he must be poor, and likely lives in one of the most difficult places on earth."

"Our Western society creates far greater damages that endanger the natural eco-system and migrating birds," said Perlman. "It starts with wind turbines, high voltage lines and wires that cause collisions, commercial hunting and poisonings."

Perlman added that storks are not only hunted by lone, hungry African hunters; commercial hunting around the Mediterranean Basin is ongoing, and causes far more damages to bird population than the former.

The stork's migration recently started and will reach its peak in August and September, with some 600,000 storks expected to fly over Israel. A small number of the migrators will spend the summer here, and a handful of couples will nest in the Golan Heights.