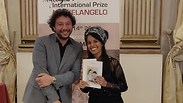 An Israeli, religious female painter has become this year's recipient of one the most prestigious prizes for young artists after vowing the jury with her artwork inspired by the motifs associated with the Jewish religion.

STRONG>

The Michelangelo Foundation for Creativity and Craftsmanship is an international non-profit organization that celebrates and preserves master craftsmanship and strengthens its connection to the world of design.

Livnat Bashari, 30, is an observant Jew who lives and works in Netanya, north of Tel Aviv.

A year ago, Livnat was asked to show her works internationally by a local Israeli agent who then published some pieces in Art Market Magazine.

The artwork caught the eye of Francesco Russo from the Michelangelo Foundation who asked her to choose one of her pieces for publication in the Michelangelo Magazine.

Livnat chose a portrait of her grandfather a pious man with a long white beard. To her great surprise, that portrait was chosen out of thousands and won her the first prize for art for a promising young artist.

"I've been told I portray in this piece a rabbinical person in a relaxed familial setting," she said.

Livnat's joy is compounded by her subject matters, which are often related to her family and surrounding in a religious home and neighborhood. The artist says she brings her world of Israel and Judaism to the canvas.

"I am not trying to preach or force my point of view. The artistic value is in its authenticity," she said.