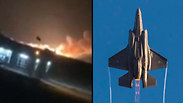 Aftermath of bombing of Iranian missile base in Iraq
Photos: AFP
Report: Israeli warplanes hit Iranian targets in Iraq
UK-based Arabic-language paper says target was Iran-linked paramilitary group in northern Salahuddin province that Saudi news channel says housed Iranian-made ballistic missiles hidden in food refrigeration trucks; Israel recently warned Iraqi government against allowing such operations on its territory
Israeli warplanes bombed Iranian-linked targets in Iraq and Syria in July, the Arabic-language Asharq Al-Awsat newspaper reported Tuesday, quoting Western diplomatic sources.
The sources told the London-based newspaper that on July 19, Israel carried out an attack on the base of an Iran-linked paramilitary group in the northern Salahuddin province of Iraq.
Reports initially said that the attack was carried out by a drone and and led to the deaths of an unconfirmed number of Iranian Revolutionary Guard fighters.
According to the Saudi news channel Al-Arabiya, the base housed Iranian-made ballistic missiles hidden in food refrigeration trucks.
Israeli officials, including Prime Minister Benjamin Netanyahu and IDF Chief of Staff Aviv Kochavi, recently warned Iraq against allowing members of the Revolutionary Guard and Iranian-allied Shi'ite militias to operate in the area.
Asharq Al-Awsat also attributed an attack on the Daraa province on the Syrian side of the Golan Heights last week to Israel, as part of the same efforts to disturb Iranian entrenchment in the area.