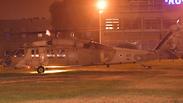 Helicopter carrying the wounded troops lands in Be'er Sheva
Photo: Haim Horenstein
IDF officer moderately wounded, 2 soldiers lightly hurt in pre-dawn Gaza attack
Israeli military says a Hamas operative belonging to a force responsible for restraining border violence breached the security fence and opened fire at the troops called into the area; the militant's brother is believed to be an amputee Palestinian protester killed by IDF last year
An Israeli officer was moderately wounded and two other soldiers had been lightly hurt after a Gaza militant breached the security fence in the southern Gaza Strip and opened fire at IDF troops in a pre-dawn attack on Thursday. The military shelled a Hamas outpost adjacent to the border in response.
Israeli military said the perpetrator - Hani Abu Salah - who was killed during a shoot-out with the soldiers, belonged to a Hamas unit responsible for restraining border violence along the security fence, including unauthorized launching of rockets and trespassing into Israeli territory.
IDF Spokesperson Brigadier General Ronen Manelis said the Gaza militant was armed with an AK-47 rifle and several hand grenades. "At this point we understand the terrorist acted independently. The body of the terrorist is currently in our territory," said Manelis.
According to sources in Gaza, the militant's brother - Fadi Abu Salah - was a disabled Palestinian man killed by Israeli sniper fire during mass protests in the Strip in May 2018. The incident sparked international criticism of the tactics used by the IDF to restrain the violent protesters during the weekly marches.
In the meantime, the IDF officer has undergone an operation at Soroka Medical Center in Be'er Sheva, where all three of the wounded had been hospitalized frollowing the incident.
The attack occurred in the area where IDF is currently constructing an underground barrier along the border in order to prevent the terror group from building cross-border attack tunnels.
The militant was identified approaching Israeli territory around 2am by the soldiers remotely monitoring the area along the security fence. "It's unclear whether they realized the suspect was armed," said the military spokesperson.
The Golani force that arrived on the scene shortly after, found themselves under attack by the Palestinian who hurled a hand grenade and fired shots toward the troops. A platoon commander was moderately wounded in the shootout, while two other soldiers had been lightly hurt by shrapnel.
The Hamas operative then hid a few dozen meters away from the security fence, separating Kibbutz Kissufim and the city of Khan Yunis in southern Gaza. He was located by the security forces an hour later and fatally shot.