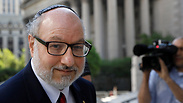 Jonathan Pollard
Photo: Reuters
Former Israeli spy Jonathan Pollard appealed to Prime Minister Benjamin Netanyahu pleading with him to convince U.S. President Donald Trump to help him receive a commute on his parole to care for his wife who's suffering from an aggressive from of cancer.
Pollard served three decades in prison for providing sensitive intelligence information to Israel and following his release from prison last November, the parole commission imposed special conditions on the U.S.-born former spy. He is currently obliged to carry an electronic bracelet on his wrist at all times, and has specific times during the day when he can leave his apartment.
In an interview aired Monday night by Channel 12 that took place in his cramped little apartment in Manhattan, New York, Pollard said he had urged Netanyahu to intervene on his behalf and ask Trump to let him "go home" amid his recent familial crisis.
"This is an important matter that should be talked about and publicized," he said referring to his decision to speak to the press.
"This is a matter of life and death. A great humanitarian issue, a personal crisis for me and my wife," said Pollard in tears.
Pollard revealed that his wife Esther was tragically stricken with breast cancer for the third time and that now it had spread aggressively in her body.
"I can't take care of my wife, I'm not mobile," he continued. "If my wife needs something in the middle of the night, I can't help her. Esther has been fighting for my life for 30 years. Now it's my turn."
Pollard was released in 2015 on parole after nearly thirty years from the facility in Butner, North Carolina, where he has been serving a life sentence.
Pollard sent his request to Netanyahu through Israeli Ambassador to Washington Ron Dermer. According to Pollard, considering Netanyahu's relationship with Trump, he "can't imagine Trump refusing" the humanitarian request.
"Israel remains committed to bring Jonathan Pollard back home. The prime minister will continue with his efforts to bring him to Israel," said the Prime Minister's Office in response.