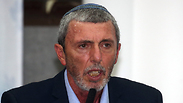 Rafi Peretz
Photo: Yariv Katz
The Education Ministry has appointed a new committee to study the civics courses on offer in Israeli schools, with the authority to make policy and other significant decisions about way in which the subject is being taught.
"We will soon appoint a committee that will handle the field of civic studies," said an announcement published online by the Education Ministry.
Civics is one of the most sensitive subjects on the school curriculum. The topics, terminology and the accusations of bias from both sides of the political map have caused some of the public controversies around the subject in the past.
The committee is comprised of up to 15 members, including up to six academics and up to six school teachers and principals.
While civil service regulations state that tenures for the ministry's different committees are two years, the decision to appoint a new committee comes despite the fact that some of the current members have not yet served their full stint.
According to sources in the ministry and former committee members - the decision to name a new panel at this time, just weeks before the next Knesset elections, is deliberate.
"The (new) committee is very right-wing," a senior Education Ministry familiar with the matter told Ynet .
"The intention behind this swift move is to preserve the committee's current make up for at least the next two years and even strengthen it, so that if a new, more liberal minister comes in – they will not be able to touch the committee, as ministers like to do.
"This update is meant to appoint a committee that suits the national-religious right, that has the field of study in a stranglehold. This is a power grab. There is no reason now to replace a committee that works just fine, especially before the elections."
The Education Ministry told Ynet in response that the committee is reappointed "as in other subjects," but unlike with civics - the other subjects did not carry a make an announcement online regarding the appointment of new committees.